How to Write a Startup Business Plan
The startup environment is fast, and often, entrepreneurs struggle with finding a balance between planning and high pace. Learn how to plan your future business effectively without losing precious time to market.
Most startups fail. The major reason for that is poor market fit and lack of planning.  This harsh reality doesn't have to stop you from trying, though.  Entrepreneurs continue to develop and test ideas, and investors pay close attention to business plans and hard data rather than merely a vision. 
Business plans are valuable for companies of all sizes, whether you're planning to launch a small business or a future corporation.
A business plan helps startups to focus on their future growth based on data-based projections and estimates
In this article, you'll learn how to write a realistic business plan for a startup that will help you to check your product's feasibility, keep the focus on your business goals and generate more investments for developing your idea.
What is a startup business plan?
A startup business plan is a document that describes your product or service from the business and financial perspective. Basically, this plan answers the question, "How will your business make money?".
To do this, a startup business plan must also answer other supporting questions like:
What's my product or service about?
How much initial capital do I have to start this business?
What profits do I need to make to keep my business operating?
What growth do I expect in terms of users, revenue, etc.?
What marketing strategy will allow me to achieve my business goals?
So, a startup business plan is a structured layout of your future business processes, strategy, business structure, and marketing. Creating it isn't easy, so why do you need it in the first place?
Why do you need a startup business plan?
Founding a business without a plan is like building a house without a blueprint. If you're lucky and a genius, the house may turn out great.
Although, the probability of it happening is very low: you don't know what kind of soil you're building it on, how many floors it'll have, how much it will cost, and how many people will buy apartments from you.
So, what other reasons are there apart from predictability? Let's discuss this.
Higher success rate
The importance of planning for business is proven by studies and data: a plan increases your chances for success by 30%! Why is that? 
A plan gives you a better understanding of your internal processes and allows you to test your ideas. Although a business plan is theoretical, it still uses real concepts and puts your future business in context.
A plan can be a great starting point for your MVP or a lean startup launch.
More funding
Writing a startup business plan is associated with higher funding. Surely, in the past, companies like Microsoft and Apple started without any plan. For example, Apple had no plan until they needed $250K in financing to build the Apple II inventory.
In the golden age of Silicon Valley, investors were ready to give money to entrepreneurs with disruptive, bold, and innovative ideas.
Now, everything's changed. Investors like to see actual plans that bring tangible results rather than blindly trusting entrepreneurs' visions. So, if you draw up a detailed plan backed by research, you'll have more chances to get funded and build a successful product.
Deep understanding of your target market
While writing a business plan for a startup, you'll think about what factors and market trends can affect your business. These factors include new technologies, current competitors, and potential marketing strategies that work for your business.
All of this will help you get a deeper understanding of your business, target audience, and your place in the chosen market.
Focus on effective strategies
A plan that contains all your operations and strategies will help you focus on activities that matter most to your success and generate the most revenue.
Easier financial planning
Many startups fail after quickly running out of cash because they don't track it and underestimated their expenses before launch.
A business plan allows you to focus on what really matters for your ROI and make sure your startup not only stays afloat but also grows at a steady, predictable pace.
How to write a startup business plan?
A typical startup business plan structure looks like this:
An executive summary
A description of a company
Market research report
Detailed product/service description
Management and operational structure
Marketing and sales strategy
Financial strategy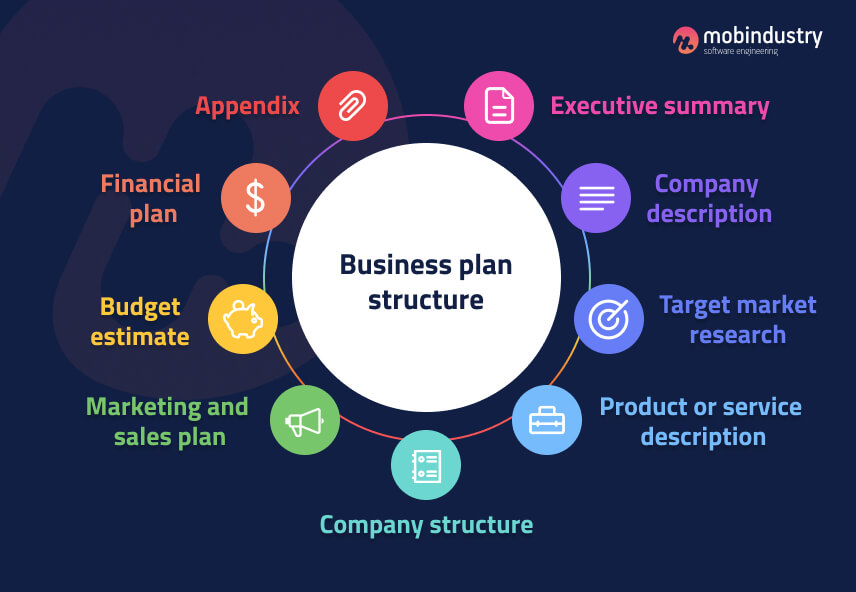 Let's discuss the key steps to writing a business plan for a startup company.
Step 1. Write an executive summary
This is an introduction to your plan, and it should contain brief information about your business, its goals, and purpose, and what services or products it will provide.
The most important characteristic of a good executive summary is clear objectives. You can also describe your vision for your company's future, as well as your mission and values.
A summary is similar to a pitch: this is the first thing potential investors will read, so you want to keep it short and sweet. I suggest laying it out first but polishing it after the whole business plan is ready.
Step 2. Describe your company
In this section, you need to provide formal information about your company that includes:
Your company's registered name
The legal address of your company
Names of key people that run the company and their roles, skills, and expertise
Your business model
Industry
Give information about the structure of your company, including the ownership structure and company hierarchy.
In this section, you can also mention the history of your company, if it has changed over time.
Step 3. Define your business goals
Now it's time to describe what you plan to accomplish in the near and far future, so make sure you include both short and long-term plans and goals. The goals can differ from expected revenue to the number of employees, users, or offices in different locations.
This section should justify your request if you're creating a startup business plan to raise money. Show your investors what you need funding for and how you plan to reach your goals.
For example, if you're expanding your team to another location, you can explain how funding will help you fund a new office and expand the team and how you think this will grow your business and sales next year.
Step 4. Do your target market research
You want to see your company in a market context. For this, you need to perform market research that includes competitor analysis. Look at what similar products already exist in your market, how they generate sales, and what services they provide.
This will give you an insight into your target market and let you figure out your place in it.
Investors want to know that there is a market for your product and that it will be a great fit. They also need to see that you're able to stand the competition and that you can offer the audience something better and different from what already exists.
Along with market and competitor research, you also need to study your target audience. If you already running your company and have clients, describe them and divide them into categories if possible.
If you don't have any clients yet, study your competitors and their current customers and develop hypotheses about your ideal customer. Include these parameters into your description:
geographic
demographic
psychographic
behavioral
Start with broad parameters like:
age
gender
income level
ethnicity
location
Narrow down each parameter until you get a detailed description of your typical user. You can create user personas based on this research — this will help you later in marketing.
Step 5. Describe your product or service
In this section, you need to give a detailed description of what you offer. Include this information about your future or current product or service:
How your product or service works
Your pricing or monetization model
What your typical customer looks like
Your supply chain and delivering a product or service
Your sales strategy
Your distribution strategy
Step 6. Outline your company structure
You already mentioned it in your company description section, but now it's time to give a more detailed description of your company structure. The company structure is all its departments and people responsible for separate business, sales, and marketing processes.
Show what your company looks like now, the roles and responsibilities of your stakeholders, and how many people are on each team.
Then, describe how you plan to scale your company as it grows so that you don't need fundamental restructuring when it happens.
In this section, you need to clearly state who is responsible for what and who has the final say in key company decisions, especially if you have investors.
Step 7. Plan your marketing and sales
It's common practice to start marketing before the product is even in development, so you need to get your strategy in place. Show your investors that you'll make sure your target audience finds your product.
Use your competitor analysis and market research to develop a marketing plan: show what resources you'll use to get your product in front of the right people. Your marketing plan should cover these topics:
Business objectives
Marketing priorities
Marketing goals and their connection with business objectives
Marketing strategy
Key marketing activities
Risks and dependencies
Be sure to create a strategy for both finding and retaining customers.
Step 8. Estimate your budget
Now, you need to figure out how much money you'll need to launch and operate your business. This includes the cost of:
Software development
Equipment
Human resources
Buying or renting property
Legal fees
Payroll
Insurance
Inventory
Make your estimate as accurate as possible, and if you're in doubt, always estimate higher — it's always better to get some extra money as a safety net in case something happens.
Also, estimate a separate budget for your marketing and advertising activities. Many startups make a mistake by only calculating their operating costs, but marketing is a crucial part of business planning. Without it, the whole startup will quickly run out of cash.
Step 9. Write a financial plan
This step is different from budgeting. Here, you need to plan your financial growth rather than just figure out how to stay operational.
If you don't yet have a business running and you can't use your historical data, just make projections. Make assumptions about your future growth, and come up with three scenarios: pessimistic, realistic, and optimistic.
A financial plan should cover 3 to 5 next years with major milestones in consideration, and include both pessimistic and optimistic scenarios
Your financial projections should cover 3 to 5 next years with major milestones in consideration. For example, if you're planning to open a new office in 2 years, this should be reflected in your financial projections.
Remember that your company may break even for the first few years or be unprofitable. This is okay, as most of your budget may go to marketing and further growth. Just make sure you're realistic with your projections and expenses.
Step 10. Write an appendix
Here, you can add everything that didn't fit in the previous parts of your document, for example, key people's resumes, property leases, licenses, permits, legal documents, receipts, credit history, contracts, and bank statements.
This is it! Your business plan is ready. Now let me give you some tips on making a business plan for a startup that guides you through your business launch and gets you the funding you need.
Tips for writing an effective business plan
Consider all possibilities
When developing a business plan, you need to be realistic. Don't make your plan overly optimistic in order to impress investors. It's best to consider potential scenarios, risks, constraints, and dependencies. This will prepare you for any circumstances and increase your chances of success.
Proofread your business plan
Grammatical errors, wrong punctuation, and formatting can make a bad impression on investors. That's why, if your business plan's main purpose is to raise money, make sure your document looks neat.
Make your plan flexible
A startup environment is very volatile, so you need to keep your business plan flexible. Be ready to pivot, make changes to your services or adjust your financial plan to real-world circumstances in order to succeed.
Keep it concise
A successful startup business plan includes many details and information about your business, but it still needs to be short and to the point. Keep only the necessary information in your business plan, so it's clear for your reader, whether it's you or your investors.
Startup business plan templates
You can create your business plan yourself from scratch or use special software. Here are some resources that can help you quickly create your business plan documentation:
Enloop
This is a simple and minimalist business plan software that allows you to create a structured business plan, share it with your co-founders and investors, generate financial reports, and detect issues. It has a 7-day free trial, and the paid plan starts at $19.95 a month.
LivePlan
This is a perfect business planner for startups that offers inspiration from sample business plans and step-by-step instructions. It has templates for creating one-page pitches, financial reports, and business plans. The cost of LivePlan starts at $15 per month.
BizPlan
This service offers you a guided business plan creator, self-guided courses, and masterclasses from experts to help you build an effective business plan. BizPlan is specifically designed for entrepreneurs who seek funding.
Other similar online services for creating business plans for startups are:
GoSmallBiz
Business Sorter
PlanGuru
Wrapping up
Getting a plan for your business is a great way to increase your chances for success, get focused on what matters most, and generate funds for your future or existing company.
It may seem daunting at first, especially when you don't know how your product or service should look to find its place in the market. This is what we can help with.
Our clients often come to us with just a vision, and we turn it into a fully-fledged working product with defined requirements. To do this, we interview our clients, dive into their business ideas, and perform market research, target audience, and competitor analysis.
All this is included in our discovery phase. So, if you'd like to build a software product for your business, don't hesitate to contact us. We can help you create your business plan and research and create a prototype to show to your investors or test in real-world conditions.
Frequently Asked Questions
We at Mobindustry always ensure your digital product is the best fit for your target market. How do we achieve this? We conduct a series of studies like target market research, competitor analysis, SWAT analysis, etc. We also immerse ourselves deeply into your business processes, goals, and expectations to deliver the best product possible. Our clients often come to us with only a vision, and we use our extensive experience in various industries to ask you the right questions and find the right information to increase your chances of success.
The first step is to contact us and share the overall idea around your future product. After our initial conversation, we sign an NDA, as we take your business data and intellectual property very seriously. Then, we discuss your project idea in more detail and provide you with a rough estimate of how much time and money it may take to deliver. If we agree, it's time for a discovery phase. During the discovery phase, we help you reflect all your business needs and goals in a set of concrete requirements for the future software product. At this time, we also conduct research in order to make informed decisions based on objective data.
Rate the article!
🌕 Cool!
🌖 Good
🌗 So-so
🌘 Meh
🌑 …