How to Make a Website Like Upwork: Technologies, Design, and Cost
In this article, we dive into the world of freelance marketplace websites and discuss the functionality of the most popular one. Find out how to build your own website like Upwork.
What is Upwork?
Initially, there were two companies — Elance, founded in 1999, and oDesk, founded in 2003. Both were markets for freelancers, bringing together workers and employers from all over the world. In 2013, the companies merged into the Elance-oDesk platform.
The merger was completed in April 2014, and nearly 500,000 businesses and business owners, as well as around 8 million freelancers, were registered on the newly created platform. In 2015, Elance-oDesk was renamed Upwork. At that time, there were about 10 million workers and a million enterprises on the marketplace.
What is a freelance marketplace?
Before we dive into the process of building a website like Upwork, let's discuss what a freelance marketplace is. An online freelance marketplace is a platform where employers (both companies and individual clients) can hire individual professionals for specific projects.
In recent years, the number of such sites has been growing. The move from a traditional nine-hour workday to a five-day workday to freelance work has sparked demand for freelance marketplaces. Both employers and contractors need a safe place to work together.
Other reasons for the growing popularity of services like Upwork are:
Easy access to talented professionals. Freelance marketplaces allow you to hire qualified professionals from all over the world.
Economic efficiency. Companies can hire professionals with the right skills without spending too much money.
Possibility of recruiting upon request. Companies can hire contractors to achieve the desired results. If the specialists or their work is unsatisfactory, there is always the opportunity to hire another professional.
The high demand for freelance sites has led to an increase in the number of sites like Upwork. The most famous of them are:
Fiverr
Toptal
CloudPeeps
Guru
Freelancer.com
PeoplePerHour
How does Upwork function?
The terms
Upwork can be defined as a generic bidding marketplace. To understand what that means, let's discuss what each of those words refers to.
Generic. This means that employers can find contractors for any sort of project, provided the tasks can be completed remotely.
Bidding. This means that candidates set a price they feel is fair for their services, and employers choose the best price offered.
Marketplace. Like in any other market, there are two sides: buyers and sellers. Buyers are individual clients or companies looking to hire a specialist for a short-term or long-term remote project. Sellers are freelancers offering their services.
The process
Let's see how the Upwork platform works with a specific example. Say you need a freelance developer for your progressive web app (PWA) development project. You have two options.
Purchase a predefined project
To purchase a predefined project, click on the Project Catalog tab, then enter your query (such as "PWA") in the search box. Then filter your search results by category, talent, budget, or due date. After that, go to the desired project and check the service level. Now you can contact a developer to discuss the details and provide additional information about your project.
Hire a developer for a custom project
The second option is to hire someone to implement the project according to your specific requirements. To do this, you need to publish a project with certain requirements. You can also specify what skills are required for the contractor who will carry out the assignment.
If someone is interested, they will send you an offer. Two types of bids should be mentioned here: hourly rate and fixed price for the entire project. Since there are a huge number of contractors on Upwork, you will probably receive different offers. These can be very low or super high. Nevertheless, you should be able to find a suitable option.
Revenue model
It's time to discuss Upwork's revenue models. You are opening your freelance marketplace to make money, so you need to know the key monetization strategies for job sites like Upwork. Basically, Upwork has two main sources of revenue: service fees and premium subscriptions. Let's take a closer look at each.
Service fees
The platform charges the commission for every successful transaction on the platform. Usually that commission is 5%, 10%, or 20%. The percentage depends on the amount the freelancer bills.
Employers join the platform and post job offers for free. Thus, Upwork provides liquidity to the platform. However, employers do have to pay a 2.75% fee to process and administer payments.
Client membership
Another revenue model for Upwork is providing companies with subscription plans. There are currently two business plans available. The basic plan is free, while Upwork Plus costs $49.99 per month.
How to build a website like Upwork
Choose your niche
Before diving into the development of a freelance market, define your niche. Think about your customers. Will they be individuals, small businesses, or large enterprises? What about freelancers? Will you be recruiting specialists with rare skills or students looking for their first job?
By keeping a specific audience in mind, you can create a unique value proposition that suits your audience's specific needs. For example, you can create a platform like Upwork for freelance designers or developers.
Define your value proposition
So far, you have identified your niche and target audience. The next step is to find the best way to meet their needs with your freelance portal. This is when a unique value proposition comes to the rescue.
A unique value proposition:
Highlights the benefits of your product and shows how it differs from other freelance platforms
Gives you a competitive advantage by helping you overcome existing disadvantages in a specific niche
When creating a unique value proposition, you can build on the following values that you can offer to both sides of your freelance market.
Availability. You have two options. You can provide easy access and thus create a large talent pool. Or you can limit access, filtering freelancers by qualifications and skills to keep only the best candidates.
Price. Analyze prices on other freelance marketplaces. Determine how you can reduce the costs of certain services without compromising profitability.
Time. Try to shorten the time for receiving payments. This way, you will give freelancers a compelling reason to join your site like Upwork.
Select the type of freelance marketplace
To create a platform like Upwork that will bring you steady revenue, define the type of your work website. You can take the lead from Upwork or Freelancer and create a shared marketplace for freelancers.
Alternatively, you can take a different approach and create an industry platform. By choosing the second option, you have a better chance of success, as you will face less competition. What are the most common types of freelance marketplaces? Let's find out.
Local sites for freelancers bring together businesses and contractors located in a specific area. The most famous examples are NoCowboys and TaskRabbit.
Short-term oriented. On platforms such as Lorem and Fiverr, companies find contractors to fulfill individual tasks.
Focused on long-term projects. Platforms like Upwork are focused on long-term projects with many challenges. The first names that come to mind in this category outside of Upwork are Freelancer and Outsourcely.
Industry-specific. As the name suggests, these freelance sites target a specific industry. For example, 99designers is a designer-only freelance platform.
Part-time job platforms. These freelance sites allow college students to get their first job and make some money. A popular example is College Recruiter.
Corporate trading platforms. Large companies turn to platforms like TopTal and FiverrPro to find professionals that match their specific requirements.
Competitive sites. Clients post the terms of the competition on platforms such as Arcbazar and DesignContest. Participants then send their ideas. After a while, the client determines the winner.
Choose the revenue model
The vast majority of websites such as Upwork earn most of their money from commissions.
However, this is not the only way to monetize your work platform. Other common models of revenue generation include:
Gigs and packages model. This strategy allows freelancers to rate their work and set their prices. Companies pay for the services they deem necessary.
Subscription. Users pay a monthly fee to use the platform. Typically, there are several pricing plans to suit any budget.
Freemium model. Users get access to the platform for free, but their options are limited. If they need additional services, they pay an additional fee.
Deposit model. Customers deposit money to access platforms like Upwork. If they are unhappy with the services offered, they receive a refund.
Advertisement. Freelancers can highlight their profiles and show them at the top of the list for an additional fee.
Custom price. This monetization strategy is typical for large clients with large and complex projects. Standard fees may not work in such cases. For this reason, websites like Upwork provide special deals to their corporate clients.
Mixed model. You can combine multiple revenue models to offer users more flexibility in terms of using your platform.
Identify the required functionality
Not sure how to create an Upwork-like platform that's popular with both freelancers and businesses? Focus on the functionality of your production site. Let's now discuss the must-have features of a site like Upwork:
Registration and user profiles
This is where freelancers provide general information such as a photo, bio, skills, and an overview of completed projects. It would be great if candidates confirmed their qualifications. For example, they could upload a portfolio of code samples or diplomas.
Search and filters
Provide a robust search and filtering system to help businesses quickly find the right specialist. It would be nice to implement Elasticsearch technology to provide the fastest and smartest search possible.
Job listings
This is the main feature of the site that allows businesses to post their projects and mention the skills candidates should have.
Bidding mechanism
This feature allows contractors to respond to relevant job postings and offer their services.
Messenger
Sometimes, companies need to discuss specific project details or working conditions with freelancers. In other cases, companies need to receive updates on progress. For these reasons, you need to enable both parties to keep in touch.
Reviews and ratings
Allow clients to provide feedback after contractors complete projects. This will make your platform more reliable.
Project management tools
First, consider adding a time logging feature. On the one hand, such functionality will provide transparency in the work of freelancers. On the other hand, it will be convenient for contractors to keep track of the time it takes them to complete hourly tasks.
Payment gateways
By offering multiple payment options, you will bring more users to your site. It would be prudent to implement escrow payments. This method involves keeping money in a third-party account until a completed task is approved by the client. Freelancers are only paid after work is approved. This is a good way to ensure trust in the platform for both parties. Finally, integration with the most common payment solutions is required.
Notifications
A notification system is required so that users are aware of activity on the platform.
The app can inform users about new messages, payments, withdrawals, etc. by sending notifications to their email or smartphone, or by displaying pop-ups on the desktop. Users should be able to customize their notification settings.
Choose the right technology stack
To build a robust and scalable website like Upwork, you need to choose the right technology stack. Let's take a look under the hood and determine what programming languages, frameworks, and tools Upwork uses.
Back end
On the server side, Upwork uses the PHP and Java programming languages. However, you can choose any technology that suits your project.
Front end
On the client side, Upwork uses Angular.js and Bootstrap.
Third-party tools and integrations
Keep in mind that the list of technologies and tools used by Upwork includes apps like Jira, Slack, Google Workspace, Marketo, and Zendesk that help Upwork meet its business goals.
API development and integration
An API, or application programming interface, allows developers to interact with a program. Writing custom software implementations requires a lot of information, and integrating a third-party API allows developers to get the data they need in a convenient JSON or XML format. It also helps you introduce useful third-party tools like Stripe for payments or Twilio for notifications.
QA & testing
For your application to work flawlessly, it must be tested at all stages of development (not just before production!). Using renowned testing tools such as Capybara, RSpec, and Selenium, we automate and speed up the testing process, which helps us release products without bugs.
Database development
Your application like Upwork will require a powerful database management system to securely store information about all of your customers (including confidential information) and handle numerous user requests. We usually use a combination of Ruby on Rails with PostgreSQL for this purpose.
How much does it cost to build a website like Upwork?
The cost of developing a website like Upwork depends on these factors:
Product features
Product design
Hourly rate of your development team
Project size and complexity
Technology stack
Number of team members on the project
Time frame
The biggest factor that influences a project's cost is the hourly rate of developers, and that often depends on their location. For example, an application that costs $40,000 to build in the US will cost around $9,000 if developed by engineers in Ukraine.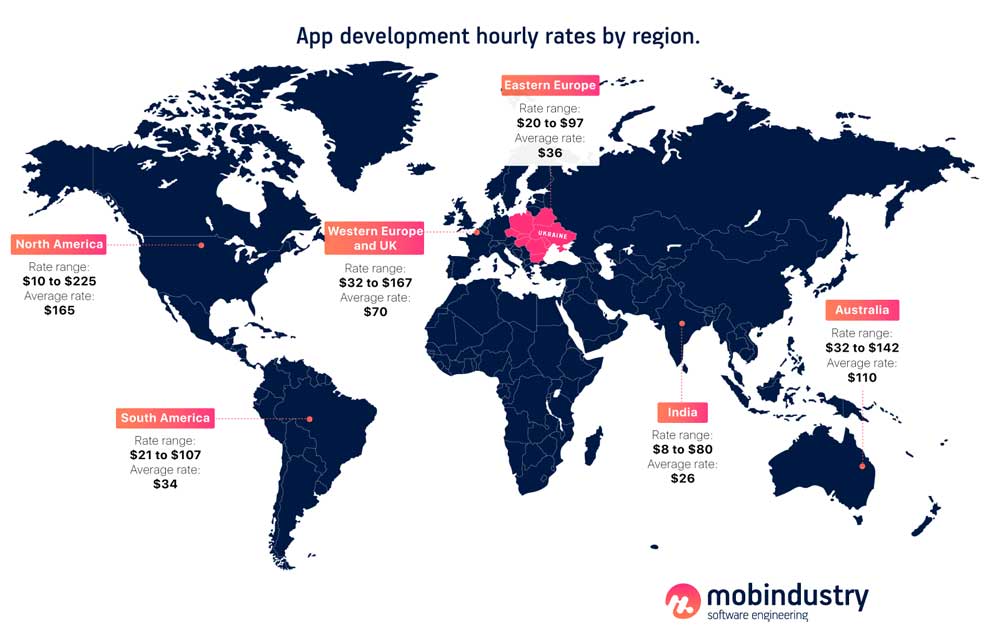 Final thoughts
We hope our in-depth guide answers your question on how to create an Upwork-like website. Now you can try your hand at launching a similar platform. However, developing a marketplace can be challenging for aspiring entrepreneurs. This is why we recommend you seek the help of an experienced custom marketplace development company. Experienced professionals will quickly create a site like Upwork while staying within your budget.
If you want to create a website like Upwork but don't know where to start, contact Mobindustry for a free consultation.
Rate the article!
🌕 Cool!
🌖 Good
🌗 So-so
🌘 Meh
🌑 …