How to Redesign a Digital Product: Step by Step Guide
Staying relevant on the market is one of the biggest challenges of modern business and their digital products. As the digital world changes faster and faster, businesses need to learn how to redesign their products efficiently.
The world of websites, web applications and mobile applications changes constantly. New technologies emerge visual design trends change every year, and trendsetters like Google and Apple improve their user experience design, leading the whole industry in the same direction.
Even when users can't pinpoint what user experience or interface elements are in trend right now, they immediately recognize an outdated digital product. Once most businesses make a shift, an outdated design quickly becomes inconvenient. Consequently, inconvenience leads to lower engagement, fewer conversions, and less revenue.
The redesign is an activity in web and mobile app development, that allows businesses to stay relevant, present their business in a new way, increase interest in their brand, and improve the experience of their customers.
Which is better: product redesign vs. design refresh
What are product redesign and product refresh? A product refresh means minor changes to how your digital product looks like. Usually, it means changing the color or shape of the UI elements. You can compare it to painting your house another color. It looks different after the repainting but doesn't have any structural changes.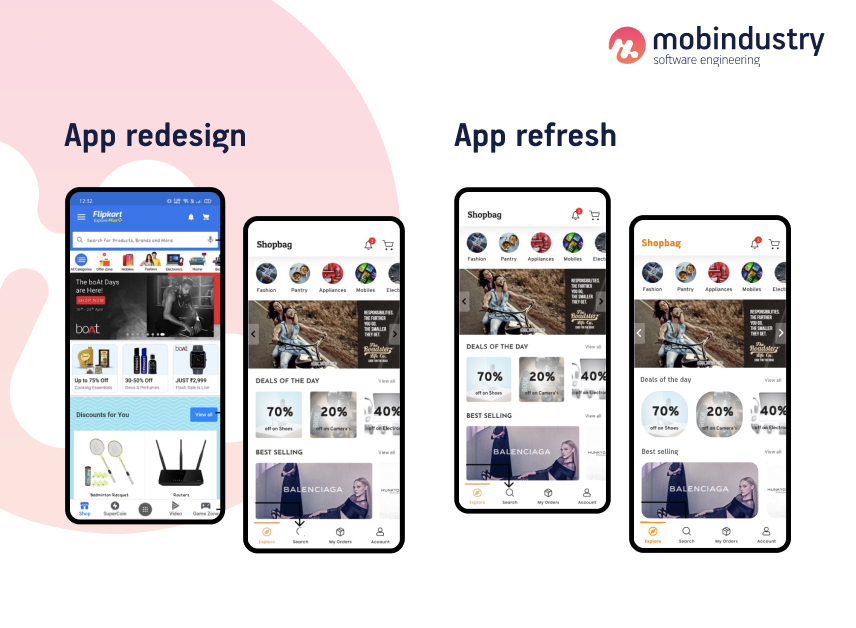 Product redesign on the other hand is when you not only paint your house but also move the walls inside, refurnish your house and make other significant changes that change the way people move, behave and feel inside a house.
During the product redesign process, you may change the user experience of your product, its business logic, functionality, and even architecture. The changes may not even be visible to your users: for example, you can change your CMS, so that it's more convenient for you to add and edit content to your website.
Product redesign is when you not only paint your house but also move the walls inside, refurnish your house and make other significant changes
As you can see, nobody can say which approach is better, because your choice depends on your business needs. For some products, a gradual design refresh is sufficient, while for others a complete product redesign is vital to stay relevant.
In this article, I'll be talking about how to redesign a product, as it's a more serious and challenging endeavor, and many businesses are confused about how to approach it right.
Top reasons to redesign your digital product
What is the secret of a timely and effective redesign? Of course, it's your ability to notice when you need it. There are several factors that can indicate that it's time to redesign your product. Let's talk about them in detail.
You need to bring all your products to a single visual aesthetic
Having a single branding across all products is important, and if you decided to redesign your brick-and-mortar stores, for example, you'll inevitably need to redesign your website and mobile app as well. In this case, the redesign will probably be mostly visual, however, you may want to review your user experience as well.
Your business performance has dropped
If you notice that your conversions have dropped, or your product became less engaging for your users, it may be a call for a redesign. In this case, you may want to explore which part of your digital product causes issues. Maybe it takes too long for your website to load? Or the navigation is outdated and inconvenient? After you identify an issue, you'll be able to plan your redesign activities accordingly.
You're expanding your product to other markets
You already found success in your market, and now you'd like to expand. Before you do it, it's best to check the market requirements, and also conduct a competitor analysis. This will allow you to look at your product from the perspective of users from your target markets, that may have different expectations.
You get feedback from customers that indicates that your product needs to change
If you have an opportunity to get direct feedback from your customers, use it to its fullest potential to identify how you could improve your product. Don't look only at users' suggestions, but look at their pain points. What do users complain about? What can't they easily achieve on your website or in your application? Identify these issues and solve them in your new design.
Your competitors have redesigned or created products according to new design trends
You need to constantly be on the lookout for your competitors that create digital products of their own, and make sure that your product is at least as modern and convenient as theirs. A user will immediately know the difference between an outdated website and a modern one, so in order to keep up with the competition, you need to regularly redesign your digital products.
There are new government requirements for your type of product
As I already mentioned above, redesign isn't always about external changes. For example, when GDPR was enforced, digital businesses needed to change the way they store and process user information, and for this internal changes were required. You may need an internal redesign of your product if new regulations arise.
How to approach a digital product redesign: a step-by-step guide
Step 1. Define the goal of a product redesign
You need to have a reason for redesigning a product, so the first step is to define the issues you'd like to solve, and also formulate the expectations for your product after it's redesigned.
Get ready for a negative reaction: users don't usually like changes. You need to have a strong case for redesign, so you can explain it to your users. Changes for the sake of changes won't be accepted.
So, before redesigning your product, you need to make sure you truly have a reason for it. Refer to the list of reasons I mentioned above, and create a business case that shows how the investments will return after the redesign.
Step 2. Conduct research and gather hard data
To approach redesign efficiently, you need to rely on hard data you gather from your user and competitor research. This is the data you should collect:
Who your current users are, and what other groups of people do you think you target, but aren't a part of your audience yet
What do your customers use your software for
Which features are the most loved and regularly used in your product
What your users would like to change or have more of based on their feedback
Don't play guessing games, and make informed decisions only based on hard data. It is a good idea to conduct user testing before rolling out the redesigned features. UX testing can help you quickly test your ideas and make sure your fresh design is usable and easy to grasp. 
You can learn about the UX design trends to watch out for in the following years, to get an idea of what you could change in your app to stay relevant on the market.
Step 3. Plan your redesign with your team
The process of planning the redesign comes with its own specific challenges. Although it seems like redesigning your product is easier than creating a design from scratch, it's not true. Yes, you do already have a solution in front of you, but the design that already exists can be limiting, when you try to think outside the box. Some members of your team may be too attached to the current solutions, so you need to be persistent and have evidence on you.
Another challenge is prioritizing the changes. You may find yourself wanting to change absolutely everything and having too many product redesign ideas, but you need to remember to think about your users: they won't be thrilled to open your application and need to learn it all over again.
Remember, that redesign doesn't mean your product should change completely. It still has to be recognizable, and the features that your users love should be the same and better at the same time.
Step 4. Launch your redesign
A redesign also requires some sort of marketing campaign, so that your users are informed about it. The moment of launching the redesign is very important: if done correctly, you can engage your users, spark interest in your product and get them to use your product more. If done poorly, a redesign can alienate users and cause them to leave.
To redesign a product successfully, launch it softly. Plan a gradual rollout of new features and changes, release them to small audiences first and gather data about their reactions. This iterative process will help you make the changes as smooth as possible for both your team and your users.
Early adopters of the changes will identify issues with the redesign, and when you fix them, the launch to the full audience will go as smoothly as it possibly could.
Step 5. Onboard your users
Before launching your redesign to a full market, plan how you'll onboard users. Create a tour around your software, show what has changed, what features have been added, and how to use them effectively.
This will help your users to navigate through a new interface and engage with it. The main message your users should get from onboarding is that your product has everything they need and love, but it's now even better.
For example, when we helped our client to redesign their customer-facing application for their logistics company, we created a tutorial that showed the main elements of the new design. You can read more about this project in our article "How we rebranded a big logistics application".
How to make sure that the new design works
After you launch your redesigned product to the masses, it's time to closely watch the reaction. At the planning stage, you already defined your expectations, and now you need to use analytics to watch if they are met.
For example, if you decided to redesign your product because of low conversion rates, track them after the redesign and make sure they're increasing. Now is the perfect time to test your improvements and continue to make changes until you're satisfied with the results. Get help from experts in product design services — they'll be able to help you apply best practices of visual and usability design in your particular target market.
Don't play guessing games, and make informed decisions only based on hard data.
Gather direct feedback from your customers if it's possible, and don't forget to test your user experience regularly by using help from a focus group.
Final thoughts
Redesigning a digital product is a challenging task because you need to find a balance between the necessary changes and your users that typically don't like products to change. Careful planning and onboarding are the two most important steps in redesigning your website or a mobile application.
A single most important tip I'd like to share with you is relying on hard data in every decision. If any of your ideas are hypothetical, find a way to test them in real-world scenarios. For a redesign to be successful, you need a strong redesign case based on evidence.
Take care of your users, lead them through a new and better version of your product, and your redesign will go smooth. If you need any help with redesigning your current product, make sure to contact us. At Mobindustry we've worked with some of our clients for over 4 years, and during that time we went through redesigns that helped our clients successfully boost their business performance.
Rate the article!
🌕 Cool!
🌖 Good
🌗 So-so
🌘 Meh
🌑 …