Comparing Car, Bike, and Scooter Sharing Business Models
As the world is making a shift from possessing to renting, the sharing economy trend continues to spiral. The most successful examples of businesses built around sharing are in the micromobility industry, where people share cars, bikes, and scooters for different purposes, timeframes, and travel distances.
The market of transportation sharing is growing by the day, as each major city in Europe, America, and Asia has multiple operators for shared cars, bikes, and scooters. The major factors playing out in this include:
Increased traffic
Demand for green transportation
Rising costs of maintenance and purchase of own vehicle
Demand for short-distance travel
The irregular or rare need for long-distance travel
The rising cost and lack of parking spaces
People prefer to share and rent, as it's often faster, more convenient, and often affordable than owning a vehicle.
According to McKinsey, the shared mobility spending in Europe will reach €150 billion in the base-case scenario and about €200 billion in their accelerated scenario by 2030. These scenarios cover all types of businesses in the mobility market, from cars to scooters. 
In this article, you'll learn about how businesses in the shared transportation domain operate, compete, and innovate, depending on their business models, dictated by:
The type of transport (car, scooter, or bike)
The average travel distance (long or short distance)
The average time of usage
The infrastructure of the business (station-based or free-floating)
Let's explore the different types of transportation sharing businesses and discuss their operations and business models in detail.
Overview of micromobility business models
Before we look at business models for each type of transportation sharing, let's discuss the different fundamental ways to build a micromobility business.
B2C (Business-to-Consumer)
This is the most popular business model in cities, where an operator sells their services directly to consumers. This model is relevant to all types of transportation, and the largest operators in the world are B2C businesses at their core.
Polaris states that in 2021 the global B2C mobility sharing market was valued at $34.49 billion and expects it to grow at a CAGR of 29.0% until 2030.
B2B (Business-to-Business)
There are fewer standalone B2B micromobility sharing businesses. In most cases, the business-to-business model becomes an additional revenue stream in a B2C sharing business. The B2B model is perfect for decreasing the downtime of vehicles.
Transportation sharing operators sell access to their fleets to corporate organizations: for example, a company can get a fleet of vehicles to provide their employees with a way to get around the city for meetings or running errands.
The global B2B mobility sharing market was valued at $31.25 billion in 2020 and is expected to reach $119 billion by the end of 2026.
Some companies prefer to rent a full dedicated fleet to reduce their spending on maintenance.
Another way to utilize a fleet in a B2B model is to transport goods. For example, Uber, Lyft, and Bolt provide grocery and food delivery services by partnering with other businesses like restaurants and stores and handling the delivery on their side.
The global B2B mobility sharing market was valued at $31.25 billion in 2020 and is expected to reach $119 billion by the end of 2026. 
P2P (Peer-to-Peer)
A P2P car sharing business model allows people to capitalize on their car when it's not in use. Peer-to-peer sharing has now become more relevant for sharing other types of vehicles like bikes, mopeds, and scooters.
A P2P micromobility sharing service works as a marketplace where vehicle owners register on a marketplace and get discovered by renters. Keys can be shared physically or technologically via an app.
P2P sharing business requires lower initial investments, which makes it attractive to entrepreneurs
Compared to other models where you, as an operator, need substantial initial investment into your own vehicle fleet, a P2P model doesn't require these upfront costs. However, you must deal with other challenges like insurance, liability, trust, and interaction with strangers.
Public/private ownership
This is the most popular business model for bike-sharing services, where a private company collaborates with the city government to provide a shared service. Both parties split the costs of providing this service and integrate it into the city infrastructure seamlessly.
In this case, a private company doesn't have to worry that city regulations will suddenly change and they will be out of business. On the other hand, a private owner needs to navigate many stakeholders with different interests. It's also often hard to scale this business model.
Now that we've covered the overall structure of businesses in the sharing economy let's look at how businesses operate depending on the type of transportation they provide. In this article, we'll mostly cover the B2C segment, as it's the most popular.
The car-sharing market
According to Global Market Insights, the worldwide car-sharing market is expected to reach $9 billion by 2026, growing at a CAGR of 24%. Zipcar claims that by 2025 10% of the population will use car sharing as their primary transportation mode.
These global trends are motivating more and more people and organizations to start their car-sharing businesses, as the revenue in this industry is projected to reach $16 billion by 2027. 
The car-sharing industry generates sales online and covers all travel ranges in terms of distance, from long-term travels that take several days to short-term trips that need to take a person from one place in the city to another.
Let's look at the business models available for the car-sharing segment of the sharing mobility industry.
Car sharing business models
Free-floating
According to the free-floating car sharing service business model, cars can be parked and picked up anywhere in the city. Its convenience has made it the most popular model in the world, as users don't need to drive to a designated dock or station.
However, there are limits: car-sharing companies still define an area where users can leave their cars and charge a hefty fee if the car is left outside of it.
Share Now is an example of the most popular service of this type with over 4 million users across Europe and a whooping fleet of 20,500 vehicles. The service costs $0.32 per minute and works best for short-term rides.
Station-based
According to this model, users can only pick up and leave the cars at a fixed rental station. To rent a car, a user needs to fill out the paperwork, although some services offer online registration and authorization through a mobile app.
After picking up the car, a renter can go wherever they want and return the car to this or another station. This model is more convenient for operators, as they don't need to hire a larger team to go around the city and pick up individual cars for maintenance and filling up the gas tanks (or charging, if their fleet is electric).
Usually, companies that use this model, charge hourly or by mileage driven for short-term rentals and offer daily and overnight rentals for longer periods of time.
The station-based model is the most profitable, as its operational costs are lower. However, it's harder to scale compared to the dockless model we discussed above.
Peer-to-peer
I already touched on this model above. It allows people to list their own cars and rent them out at any time, avoiding idling. The P2P model allows users to set their own rates and gives renters a wide range of options.
The most popular service in this segment is Turo, which operates in the US, the UK, Germany, and Canada with over 10 million users and 350,000 vehicles listed on their car-sharing marketplace.
Autonomous
This model hasn't been successfully and fully introduced by any company in the world yet, but we're headed in that direction. Major companies like Google are working towards creating fully autonomous car-sharing fleets.
The vision is that these autonomous cars could be picked up anywhere and returned to a home area on their own. This would allow businesses to cut their operational costs significantly. The challenge for autonomous vehicles is their cost and regulations.
Bike-sharing market and trends
According to Statista, the revenue from the bike-sharing market is expected to reach $13.34 billion by 2027, growing at a CAGR of almost 10% from 2023 to 2027. The worldwide user base of bike-sharing businesses is expected to reach 960 million users by 2027. 
In 2023, the user penetration sits at 10.6%, and it's expected to reach 12.1% by 2027.
Among the largest and most successful bike-sharing companies in 2023 are:
Mobike (China)
Lime (the US and Europe)
JUMP Bikes (worldwide)
Motivate (the US)
Ofo (China, the US and Europe)
The bike-sharing market is projected to reach $5 billion by 2025, according to Research and Markets. Today, there are around 900 bike-sharing companies around the world, and often they're backed up by cities that also invest in green micromobility ecosystems. 
Bike sharing business models
Dockless
Dockless or free-floating business model for bike-sharing suggests that the bikes can be left anywhere within a designated area at a bike rack or along the sidewalk. Most dockless bike-sharing services charge as little as $1 per ride or offer monthly packages. For example, LimeBike sells a package of $30 per 100 rides a month.
With this business model, a company doesn't have to invest in the dock infrastructure around the city, and it's easier to scale the number of bikes.
Dockless bike sharing model becomes more and more popular each year, although it has its challenges: for example, bike maintenance, sidewalk cluttering and bike misplacement
However, this model has its challenges: the bikes can be misplaced or damaged, and a business needs to collect them for maintenance or relocate them to different parts of the city. Another problem is having bikes cluttered on the sidewalks — this can quickly become dangerous for pedestrians and provoke city regulators to ban a business from their streets.
Businesses have different approaches to dealing with these issues. For example, oBike and LimeBike encourage users to return bikes to designated parking locations by giving them credit points they can use on free rides.
Mobike, which has a fleet of over 5 million bikes and 100 million users, offers Mobike Credits for reporting poorly parked bikes and encourages users to park their rented bikes at Mobike Preferred Locations (MPL).
Station-based
Docked bikes allow users to rent and return bikes only at the designated locations with stations. With bikes, the station-based business model is often preferred as it's more reliable against vandalism and theft and significantly reduces clutter.
A business needs to invest in stations, but on the other hand, it's easier to collect bikes for redistribution around the city. This business model is currently more prevalent, but as the free-floating services continue to expand, a station-based model might become a thing of the past.
Many station-based bike-sharing companies share the same payment logic: the first 20-30 minutes of a ride are free, and the next 30-minute periods are paid. The Capital Bikeshare company that operates in Washington D.C. charges an increasing fee for each next 30-minute period: $1.50, then $3, and after that, $6 for each next 30 minutes of a trip.
Sponsored
The sponsored model I described earlier in the article is the most relevant for bike-sharing, as cities and private corporations are interested in establishing public micromobility programs. Bikes are the most popular type of individual city transport that's easy to share, so it makes this model relevant, especially in Europe.
However, the US is actively adopting this model as well. For example, the official NYC bike-sharing program called Citi Bike offers thousands of bikes and stations across the city. A single ride costs $4, and a day pass costs $15.
Regular users can benefit from purchasing a membership for $15.42 a month and get unlimited 45-minute rides on classic bikes and rides on electric bikes that cost $0.17 per minute.
Scooter-sharing market
Scooter-sharing has taken the world by storm and is now arguably the most popular type of transportation in the micro-mobility market. Scooters are affordable, green, and compact compared to cars and even bikes. They require a lower initial investment and are accepted in most cities worldwide.
Future Market Insights predicts that the global e-scooter sharing market will grow at a CAGR of 18% between 2022 and 2032, so the trend is here to stay. Fortune Business Insights states that by 2028 the scooter-sharing market size will reach $31 billion. 
Scooter-sharing business models
Free-floating
This is the most popular electric scooter business model — 90% of all scooter-sharing companies offer scooters users can leave anywhere within a designated radius.
Unlike classic bikes, scooters are electric and need charging. Usually, the staff will collect scooters at night, swap batteries or charge the scooters, and then distribute them in various areas of the city so that in the morning, they're ready for use again.
The initial investment for a scooter sharing system is usually spent on a mobile application and a small fleet of scooters that can be easily scaled.
Lime is one of the most popular scooter-sharing services in Europe. They charge a different price depending on the city, like other global scooter-sharing services. Usually, the pricing model includes an initial unlock fee plus a minute rate.
On average, the minute rate is between $0.16 to $0.39, and the unlock fee is around $1. A typical 10-minute ride on a scooter costs $2.50 to $4.9, depending on the operator.
If you're planning to launch your scooter-sharing business, a free-floating model is your best choice, as it has already become a standard.
Docked
The station-based e-scooter business model is a rare occasion on the market. Surely, a station-based model has many advantages for businesses, as it reduces operating costs. However, the users are more likely to choose free-floating scooters as a more convenient option.
However, free-floating scooters clutter the streets, and some cities have already banned them. Some argue that, eventually, station-based micromobility services will become more prevalent. Still, today the overwhelming majority of scooter sharing businesses don't choose this model.
The best option might be to combine both business models and offer free-floating scooters along with station-based ones. This will make a business more flexible and respond to user needs and city regulations.
Scooters for tourism
This is an interesting scooter rental business model that works for B2B. Some hotels started offering electric scooters to their guests, so they can explore the local environment without having to rent a car. As an operator, you can add a B2B sector to your business and offer e-scooter fleets to hotels.
Usually, operators that rent scooters to hotels or other businesses allow them to change the branding (e.g. stick their logo or change the colors of scooters), and provide maintenance services. The pricing for scooter rides can be different: a hotel may cover the expenses or make the service paid for hotel guests.
How can Mobindustry help you build a micromobility sharing business?
Mobindustry has great experience in building software for micromobility businesses and sharing businesses. We created custom car and scooter-sharing apps for multiple businesses and then decided to build a high-quality white-label app for scooter sharing.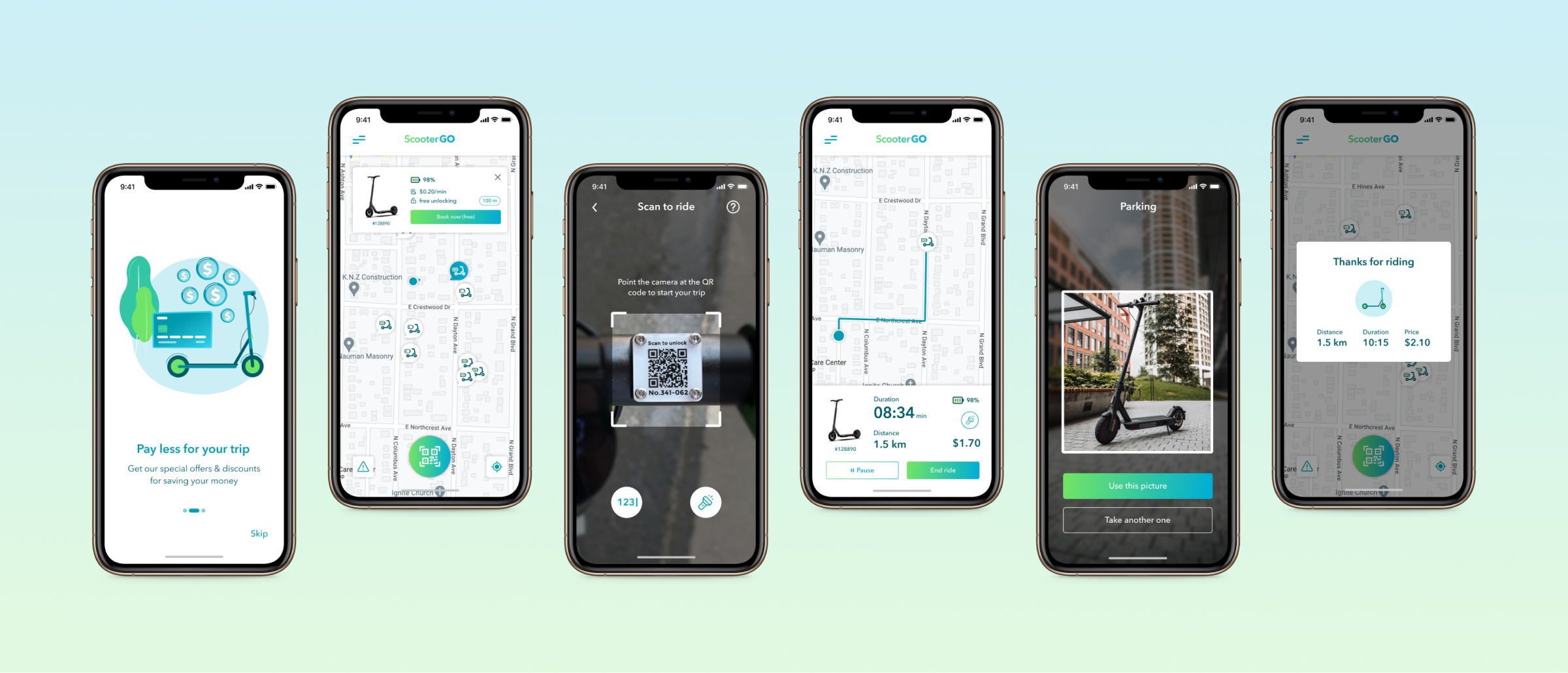 ScooterGO is a ready-made solution for scooter sharing businesses, that allows you to get a working, customizable ecosystem within weeks instead of months, and at a fraction of the price!
What makes it different from countless other white-label apps and other off-the-shelf solutions? Here are the advantages:
Full control over your business data. No one, including us, has access to your transactions, revenue, user base, etc.
No recurring fees. We don't charge a monthly fee, so the solution is all yours without any additional or hidden payments
Money saving. You save 50% of your budget and months of development you'd spend on your own software made from scratch
Easy scaling. You can scale your fleet thanks to the microservice-based architecture of our platform
Highest level of customization. We use your unique brand style to customize your app: you choose the colors, logos, vehicle icons, and more.
All rights are yours. We publish your app from your own AppStore and Google Play accounts
With white-label apps, you often have to improve and customize the code, that's not flexible and scalable. We at Mobindustry made sure that there are no surprises when you look under the hood. Moreover, we are a software development company first, so we're always ready to add functionality and provide any other services that will support your business at any stage.
If you want to start a scooter sharing business, be sure to contact us. We're eager to impress you with our presentation of software for an electric scooter sharing business! If you're looking into car sharing or bike sharing, we'll be happy to turn your idea into a working, profitable system.
Frequently Asked Questions
There's no one-size-fits-all answer here, but today free-floating car sharing is considered to be the most convenient for users. It will require extra effort from you, but this model is more competitive. The B2B model is probably the most profitable, but it can be harder to find clients.
The dockless or free-floating model for scooter sharing is more popular and competitive compared to the station-based model. The reason is, again, convenience for users. Although, station-based companies are more city-friendly, as they don't clutter the streets. My recommendation is to combine both models, so you can stay in business if the city regulations change.
To start your own car, bike or scooter sharing business, you need to take care of hardware and software. We at Mobindstry can help you with both. You'll need to purchase vehicles from a reliable vendor and build or purchase a mobile application. Custom development is more high-quality but takes time and is more expensive. We at Mobindustry offer the best of both worlds for scooter sharing and provide a ready solution with extremely high levels of customization and unparalleled quality.
Rate the article!
🌕 Cool!
🌖 Good
🌗 So-so
🌘 Meh
🌑 …