How Much Does a Website Cost: Get a Full Breakdown
Website development services are something almost every business owner eventually needs. Today, a business without a website is rare, and even small businesses create websites to promote their services
As with nearly anything else, website development price depends on lots of factors. You can build a landing page, a large ecommerce marketplace, or something in between. In any case, the cost will depend on your website's page count, design, and features.
Surely you don't need to hire web developers if you just need a simple website: there are lots of solutions on the market that allow you to create code-free websites. When it comes to answering the question "How much does it cost to build a custom website?", the answer isn't easy.
The cost of any digital product depends on features, size, page count, design and your developer's hourly rate
In this article, we'll be talking about custom web development, as it's more versatile and allows you to build products of all sizes and any complexity.
Let's start with two basic approaches to building a website, then move to what the cost of website development consists of.
Are you planning to build a website for your business?
We can translate your idea into a powerful and effective web soluton
Two approaches to website development
When it comes to developing a site, there are two approaches to choose from:
Hire a professional developer or a team
Make it yourself (DIY builder)
Hire a web developer
Hiring a professional web developer will surely require more investment, but by doing so you can be sure your website will look exactly how you want it to. But while it's easier to create a website with help from a professional, it may be a challenge to find a developer in the first place.
Developers from the US and UK charge five to ten times more than professionals of the same level from Ukraine
Here you also have two options: hire a freelancer or outstaff your project to a development company.
If you hire a freelancer, it may be cheaper. However, the price still depends on the developer's experience and location. Developers from the US and UK charge five to ten times more than professionals of the same level from Ukraine.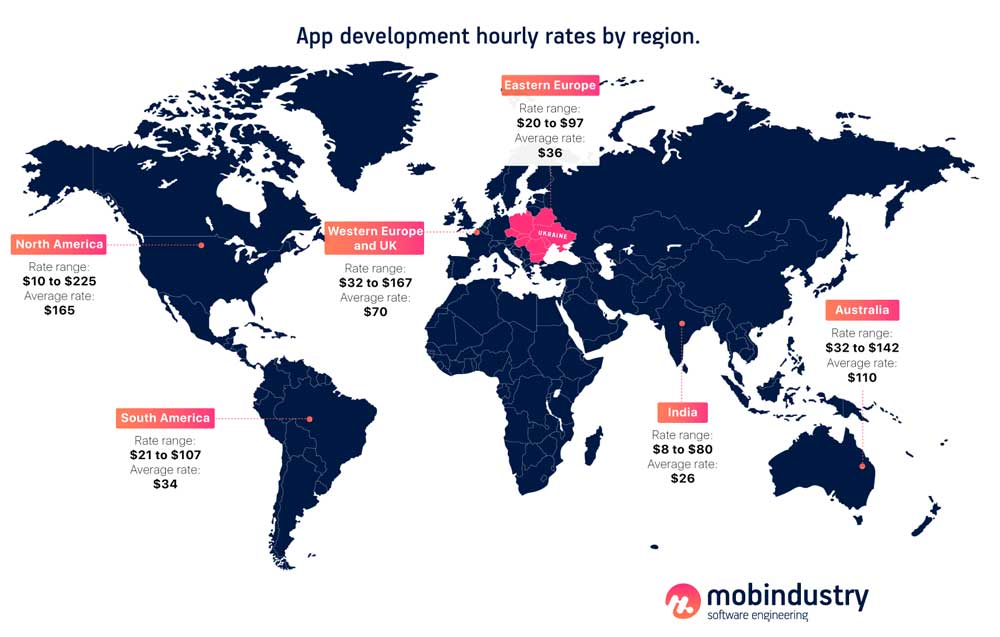 Still, if you hire a freelancer, you'll need to manage them and provide them with design, wireframes, and a technical specification. This can make website development hard, as you'll still need to gather a team that consists of a designer, developer, and possibly a business analyst.
That's why it may be more cost-effective to find a development company that already has a team that can cover all your needs, from business analysis and design to development and testing.
Web development services
Do you want to get digital presence for your business? We can help you create a website of any complexity for best visibility and conversion
Create a website yourself
Currently, there are lots of tools that promise an easy and customizable foundation for your own code-free website. WordPress, Joomla, Wix, and other companies offer constructors that you can use yourself.
This is a good option for people who have small businesses or haven't decided if they need digital presence: such services can help you create a small and simple site without any help from developers.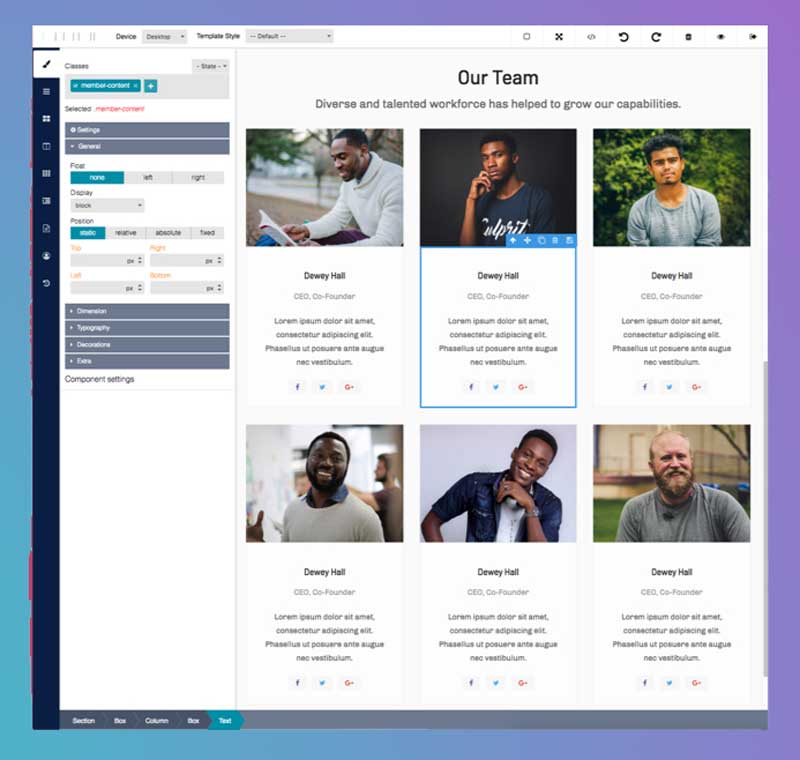 If you're a business owner, you're probably focused on running your business, however, and creating a website on your own will require much time and effort. Plus, the result will likely be less impressive than it could be with professional help.
If you need something more complex than a single-page landing site, I advise you to hire professionals.
Web development services
Do you want to get digital presence for your business? We can help you create a website of any complexity for best visibility and conversion
What makes up the cost of website development
The cost of developing a website starts at merely $100 a year if you do it yourself and pay only for hosting and a domain name and can reach over $40,000 in total for very complex and large products with lots of functionality. Building a website like eBay or Shopify, or like Facebook can cost hundreds of thousands of dollars, so everything depends on your budget and idea.
As you can see, the cost of a website can vary wildly, so it's important to understand what the price consists of.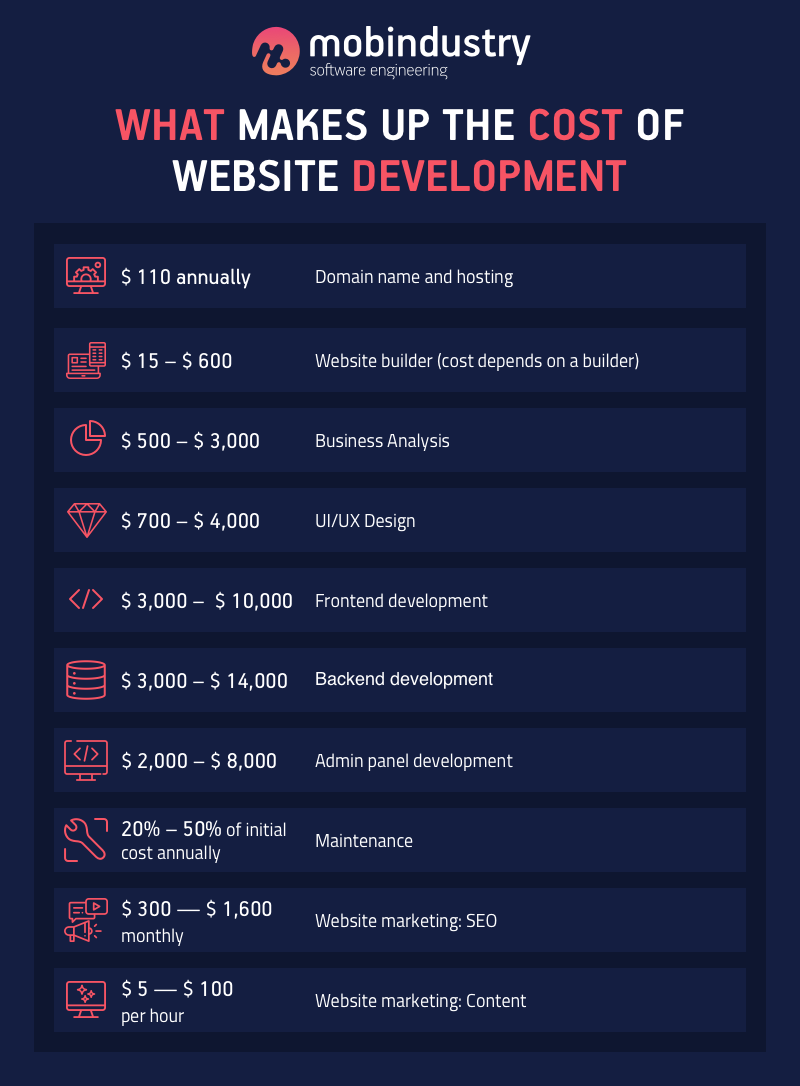 Domain name and hosting
How much does it cost to set up a website? Not so much, actually: no matter how you'll approach development — use the help of professional developers or build it by yourself — you'll need to pay for a domain name and web hosting.
A domain name is your address on the web, and you'll need to register and pay for it. Each couple of years you'll need to renew your domain name if you want to keep it. If you don't, it will simply expire and someone else will be able to buy it.
| | | | |
| --- | --- | --- | --- |
| Ranking | Technology | Domains | Market Share |
| 1 | GoDaddy Web Hosting | 1 423 086 | 16.86% |
| 2 | Google Cloud Web Serving | 736 098 | 8.72% |
| 3 | AWS Web Hosting | 656 405 | 7.78% |
| 4 | UnitedLayer | 606 820 | 7.19% |
| 5 | 1&1 Hosting | 505 527 | 5.99% |
| 6 | BlueHost | 265 218 | 3.14% |
| 7 | Liquidweb | 203 562 | 2.41% |
| 8 | WP Engine | 193 337 | 2.29% |
| 9 | Hetzner | 184 968 | 2.19% |
| 10 | Endurance International Group | 176 861 | 2.10% |
Source: Datanyze
A hosting service stores your website's content and data. Usually you rent hosting from a company that has servers and provides internet access to ensure that your address is available at all times. Here are the most popular types of hosting:
VPS hosting
Shared hosting
WordPress hosting
Blog hosting
Dedicated hosting
For a domain name, you'll need to pay around $15 per year, and you'll need to pay around $8 per month for website hosting. So to run a website, you'll need to pay about $110 annually.
Website builder
If you plan to build a website yourself, you'll definitely need a builder. Website builders usually have some free themes, but they're very basic, so you'll probably want to use a paid theme and a template or use paid plugins.
Each website builder puts different prices on their templates and plugins, so the cost of website building will depend on its size and level of customization.
Website builders can charge as little as $15-$30 for a basic plan, but running websites on advanced and complex website builders like Joomla can cost $700-$6500 monthly.
Style or theme
If you plan to hire a web developer instead of using a no-code website builder, you'll still need a content management system (CMS), as building websites from scratch is expensive and time-consuming. A web developer will be able to create a custom theme for you and build a website with all the necessary functionality.
However, often business owners choose to purchase a high-quality theme or style for their website. For example, WordPress offers thousands of various customizable themes you can purchase. WordPress themes cost anywhere from $25 to $150 depending on the theme developer.
An off-the-shelf theme may still need some tweaks here and there, so be ready to pay a developer for making changes and customizing it, so that your website doesn't look too generic.
Responsive design
Responsive design allows your users to view content on your website on any device, from a mobile phone to a smart TV. Having your website automatically adjusts to all screen sizes has already become a standard practice in web development, so you need to be ready to spend some time and money on making your web product responsive.
Business analysis
This is more suitable for large web products; however, even if you plan to develop a small site, you still need a list of what you plan to include on it. Business analysis is a preparatory stage that helps you and your developer to speak the same language and define your website's features. Business analysis also involves market research, which allows you to know your competition better and find out about industry standards.
A business analyst will produce a technical specification that lists all the tools needed to build your site, describes the step-by-step development process, and includes wireframes that show how each element will be placed on the page.
Web development services
Do you want to get digital presence for your business? We can help you create a website of any complexity for best visibility and conversion
SSL Certificate
SSL certificates allow you to move your website from HTTP protocols to safer HTTPS protocols and protect your website information by verifying the owner, and encrypting the web traffic. Basically, an SSL certificate is a piece of code that's hosted on your website's server. It includes a public key that's verifies every device that's trying to communicate with your server.
An SSL certificate costs approximately $60 per year, and it's an ongoing expense. The cost may vary from only $5 per year to even $1000, depending on what levels of security your website requires.
UI/UX design
After your plan is ready, it's time for UI/UX design. It's great if your designer knows the basics of web development like HTML, CSS, and JavaScript. This will allow them to build the design with development in mind, which will make the actual development easier.
No matter what type of website you have, be it a dating, streaming, business or shopping website, it should be mobile friendly and responsive: this is an industry standard across the world.
So, how much does it cost to design a website? The price for website design can vary from $700 to $4,000 depending on the complexity of your website and your designer's experience and hourly rates.
Frontend development
The front end is everything your user sees when they interact with your product, from all the buttons to page loaders and content. The front end can be created in many ways. Here are the technologies web developers commonly use for building the visible part of your website:
HTML
CSS
Bootstrap
JavaScript
TypeScript
SASS
LESS
Angular
React
The price of frontend development depends on three key factors: the size of your website, its complexity, and your developer's hourly rate. Most frontend developers charge $20 to $100 per hour depending on their skill level and location.
To save money, you can hire an experienced developer in another country who has the same skills as your local developers but may charge less.
Note that quality assurance usually goes along with development, and it's a good practice to have a QA specialist, as a developer can miss some bugs. If you outsource website development to a company, make sure you discuss quality assurance with them. A good company won't provide you with code that hasn't been checked by a QA specialist.
Frontend development for an enterprise website will cost $3000 to $10 000 depending on its complexity and number of pages.
Backend development
The back end is responsible for the proper working of your site: it manages, transfers, and stores all data, from your users' logins and passwords to articles and web page content.
The backend powers all the features and is responsible for its loading, for payments, and for all user interactions. The cost of setting up a website backend depends on complexity and number of features. Again, your developer's rate also plays into it.
Database driven website development includes setting up:
Caching
APIs
Data storage
Data processing logic
Metadata
Business logic
Backend architecture
The cost to build website with database and backend development of a website can cost from $3,000 for simple websites to $14,000 for large and complex solutions.
Admin panel development
An admin panel is part of the back end that allows you as a website owner to manage your content and users. An admin panel is basically a CMS. Many web development frameworks like Symfony, for example, have their own admin panels you can adjust for your needs. WordPress, on the other hand, is a CMS on its own.
If you use Bootstrap or another framework for website development, you'll need to create an admin panel so you can see all your users' credentials, manage content, add new pages, receive and process orders, and monitor your site's analytics.
Setting up analytics is a separate activity that's important for any digital product. It allows you to see how your business grows, showing you daily and monthly users, traffic, the most popular pages, and so on. Analytics can also give you an idea of how well your web product performs from a technical standpoint: for example, it can show you the load speed.
Developing an admin panel can take little investment if you use a ready CMS. However, to develop a custom admin panel you'll need to pay $2,000 to $8,000.
Ecommerce functionality
If you're planning to create an ecommerce website, you need to plan your budget for all the additional functionality and third-party services that are required for this type of product. For example, if you integrate a payment gateway for quick online purchases, you need to take their fees and commissions into account. Creating catalogs and listings also requires additional time. I'll talk more about the ecommerce website development price a bit later in the article.
Maintenance
How much does it cost to start a website? People usually don't consider the post-launch expenses, when they answer this question.
You'll need to maintain your product after it's live. This includes performing regular security checks, plugin and CMS updates, bug fixes, and so on. The average cost to build and maintain a website is proportional: maintenance will take up 20% to 50% of the initial cost of development annually, so be ready to invest in it.
Cost to build a simple website for your business or a landing page is rather low, and you won't need much maintenance as well. However, for large and medium-sized sites, these investments are absolutely vital and can be rather costly.
The cost of running a website is $200 to $15,000 yearly.
Web development services
Do you want to get digital presence for your business? We can help you create a website of any complexity for best visibility and conversion
Website marketing: content, SEO, SMM, PPC
If you want to enter the world of the web, you need to play by its rules. The rules are simple: websites that have great content, credibility, and search engine optimization (SEO) appear on the first page of Google results and get 90% of all traffic. You need to strive for that if you want users to discover your business online.
The cost of good content and SEO depend on how your team is organized and where it's located. Usually, SEO costs $300 to $1,600 monthly.
Freelance content writers charge anywhere from $5 to $100 per hour depending on how skilled they are. Content agencies will typically charge more, but they'll also power your content with design elements.
To give your web marketing a boost, you can also use pay-per-click advertising on Google Adwords, for example. This requires a PPC specialist, as it's rather tricky to achieve good results and not waste thousands of dollars.
You can also start promoting your website on social media channels like Facebook, Instagram, and LinkedIn. This requires time and knowledge of the peculiarities of each platform, so you'll need to hire an SMM specialist for the best results.
How much do the best web hosts cost?
Website hosting isn't typically expensive, but you need to pay for it regularly, and the price depends on your plan.
Shared hosting is the cheapest and starts from just $2.95 per month, and can reach up to $50 per month. Dedicated hosting is more costly and will cost you from $45 to $630 per month. Bluehost, HostGator and others offer up to 4 different plans to choose from, depending on the type of hosting and additional possibilities.
Let's take Bluehost as an example, and explore its prices for different types of hosting.
Shared hosting: $2.95 – $13.95/month
VPS hosting: $23.99 – $83.99/month
Dedicated hosting: $99.99 – $139.99/month
Cloud hosting: $4.50 – $240/month
WordPress hosting: $2.95 – $13.95/month
I'd recommend consulting your web developers to figure out what plan and hosting type is best for you, as there are lots of options and it's easy to get lost.
Integrations and APIs
If you want your website to have social media sharing functionality, payments, analytics, and other features, you can't go without integrations and APIs. Here's the list of most widespread features that require third-party integrations:
Online payments: Braintree, Stripe, PayPal, etc.
Social media sharing: Facebook, Instagram, Twitter, etc.
Delivery: EasyPost, FedEx, etc.
Analytical: Flurry or Google Analytics; Firebase or MixPanel, etc.
Maps & Geolocation: Google Maps, etc.
Email marketing: MailChimp, etc.
Messaging: Twillio, Zendesk, HubSpot, etc.
You'll need to pay for the integration itself to the developer, and then also pay a monthly or yearly fee to the third-party service you're using. The cost usually depends on the number of users you have. Payment gateways also charge a fee for each transaction, for example, Braintree charges 2.9% + $0.30 for each transaction.
Features and cost by website type
Landing pages
A landing page is basically a sales pitch in the form of a website. It promotes one specific service or product, so it's not overloaded with content.
A landing page can be a standalone single-page website, or it can be part of a big digital product. In any case, the cost to develop a landing page depends on the complexity of animations, the technology used, and your developer. Expect to pay $500 to $2,500 for such a product.
Websites for businesses
Business sites usually have only a few features. Instead, they have many pages that tell visitors all about the business, its products or services, its history, and its credentials and contact details.
Business websites are usually multi-page, and most have this set of pages:
About the company
Services or Products
Contact
Blog
Testimonials
There can be way more pages than this if the business is complex. The costs to develop a website for a business can vary from $5,000 to $15,000 depending on its size and design.
Ecommerce websites
An ecommerce website is a rather complex solution, though there are already tons of platforms that offer off-the-shelf templates and plugins. For example, OpenCart supports everything from listings to payment gateway integrations.
You can build an ecommerce site on your own with the help of a CMS. However, if you want it to be customized, you'll need help from a professional developer who will be able to create a custom theme or template to make your online business stand out.
An ecommerce website should have these features:
Personal profiles
Shopping cart
Favorites
Checkout
Search and filters
Listings
Recently viewed products
Payment gateway
Ratings and reviews
Loyalty or membership program
Admin panel
Design is important for ecommerce products, so you'll probably want to create a custom theme. The average cost to design a website by OpenCart developers varies from $20 to $100 per hour depending on their skill level and location.
A shopping website can cost between $15,000 and $40,000.
Web apps
Web applications are complex web products that are usually feature-rich and allow users to complete tasks through an app, input information and make changes to the web app. Unlike static websites where users only review information without interacting with it much except for browsing and filling in forms, web apps are fully fledged products. For example, Google Docs is a web app that allows you to create, edit and share documents and offers lots of features.
Web apps are usually more expensive to create due to their complexity, features and specific requirements to servers and databases.
How much does it cost to build a website?
There are many ways to develop a website. The easiest and fastest way is to hire a professional developer. By doing so, you'll get a functioning product and have an opportunity to focus on your business.
| | | |
| --- | --- | --- |
| Type of website | Cost (min-max) | Annual maintenance cost |
| Small informational website | $2,000-$9,000 | $400 – $1,200 |
| Corporate website | $10,000 – $35,000 | $2,000 – $15,000 |
| Ecommerce website | $5,000 – $55,000 | $15,000 – $30,000 |
| Web application | $6,000 – $75,000 | $30,000 – $60,000 |
The average cost of web development
To make a web product, you need to choose a suitable technology. Simple templates from Wix or Tilda, for example, will get you a great landing page or a simple corporate website.
The easiest and fastest way to develop a good website is to hire a professional developer. To cut down costs, you can outsource your project and get high expertise at a reasonable price
To create a large enterprise or ecommerce site, you can choose WordPress or OpenCart, but you'll likely need to hire a developer who's familiar with these CMSs to help you with integrating payment gateways and creating custom templates.
If you want to be visible in search results, you'll need the services of specialists in PPC, copywriting, SEO, and SMM. All this will add to the cost of your website.
Monthly and annual website costs
There's no average website cost: each business and each website serves its goals and uses different feature sets, levels of design complexity, and so on.
If you create a website by yourself, you only need to pay monthly for website hosting and other monthly expenses like plugins and so on. The price is different as well, if you choose to use a website builder — in this case, the price may vary from $0 to $600 per month.
If, however, you have a custom website, the maintenance may cost from $400 to $60,000 per year, depending on your site's complexity and functionality.
Each month, you'll need to pay anywhere from $35 to $6000 per month to maintain your website. You should also remember to pay for marketing, content creation, SEO, and other non-technical aspects that influence your business.
If you want to get an estimate on your website price, feel free to contact us.
Web development services
Do you want to get digital presence for your business? We can help you create a website of any complexity for best visibility and conversion
Frequently Asked Questions
There's no universal answer to this question, as everything truly depends on your business needs and goals. If you're a small business owner and just starting out, and your goal is to see how promising online space is for your business, then sure, there's no point in spending thousands of dollars on custom development. The same goes for very simple websites that don't have any heavy traffic or complex functionality. Once your business gets rolling, and your needs grow, you'll immediately feel that a website builder isn't sufficient. At this point, it's best to consider custom development.
The two most influential factors that determine the cost of your website are the scope of work and the hourly rate of your developers. The scope of work depends on your business needs and the functionality needed for your end-users to achieve their goals. This factor isn't very flexible, as you can only prioritize features and work on MVP first, but eventually, you'll need to develop everything that's needed for your product to be competitive. However, you can influence your budget by hiring developers from other countries, where the cost of living is lower. For example, the same professional from Ukraine will charge 3-4 times less than their counterpart from the US.
The cost of a website depends on its type, so there's no way anyone can give you an estimate without learning about your needs first. If you'd like to know how much your website should cost, I'd recommend gathering requirements, creating a technical specification, and then asking different companies for a quote. Contact your potential software development vendors and look at the prices they offer you. Make sure to interview them as well and listen to the solutions they offer right off the bat. This will allow you to pick the best vendor and technology stack for your project.
Rate the article!
🌕 Cool!
🌖 Good
🌗 So-so
🌘 Meh
🌑 …