How to Create a Car Insurance App: Features, Technologies, and Costs
The car insurance industry is flooded with competition, and insurance companies look for ways to attract and retain their clients. The convenience of a mobile app may be the perfect incentive to get your clients to stay
The car insurance market, and insurance in general, has been lagging in digital transformation. However, in the past couple of years, more and more car insurance companies have started to offer their services via mobile applications.
People are so used to smartphones that it has become expected for a business to have a mobile application, especially if they need to resolve certain issues fast. Car insurance is definitely a service that highlights the need for a quick company response time.
Why you should build an app for your car insurance company
According to the 2020 J.D. Power Claims Digital Experience study, there has been a 20% increase in customers who use digital claims tools in the past three years, and customer satisfaction is the highest among those customers who use digital tools.
The head of P&C insurance intelligence at J.D. Power, Tom Super, says that digital transformation is extremely important to modern claims operations. Though personal interaction still remains the primary method for insurers, 84% of people who make claims say they've used digital tools at some point during the process.
With the rising need for automation in insurance claim processing and customer support, the artificial intelligence market for insurance companies is growing exponentially. 
Additionally, many customers are now looking for ways to buy car insurance online. As such, having an app for your car insurance company can offer customers an easy and secure way to purchase car insurance. With this in mind, it is important to understand the features, technologies, and costs that go into creating a car insurance app. By providing customers with the ability to buy car insurance online, your insurance company can stay ahead of the competition and provide customers with the best possible experience.
According to the "AI in Auto-insurance Market" report, the size of the auto insurance market was valued at $221.94 million in 2020 and is expected to reach $582.41 million by 2028, growing at a CAGR of 14.06%. Car insurance companies use AI for claims assessment, chatbots, and policy pricing for both passenger and commercial cars.
As you can see, the market for car insurance technology is growing. But, how will this demand positively affect both you and your customers?
Benefits for your customers include
The ability to file claims anywhere and anytime with a mobile app
Improved communication
Access to support via live chat or a chatbot
Saving time on communication when making insurance claims
Additional services or information about anything from traffic jams to cheaper gas stations
Benefits for your business include:
A decreased number of employees. As you automate some of your processes, it can be easier for you to achieve the same results with a smaller team.
Cut operating costs. A mobile app can save you money on customer support, marketing and paperwork.
Opportunities for upselling. You can offer additional products and market them through a mobile app.
Automation of some tasks. You can automate some of the work your insurance agents are doing and free their time for more important tasks, such as finding new clients.
Collecting more data about your customers. Data is important for marketing, and with a mobile app you'll get lots of insights about your target audience's preferences and behaviors.
All this will lead to revenue increases if implemented correctly. Let's now talk about the trends and challenges in car insurance app development.
Trends in car insurance app development
Apart from the mobile-first approach that is a trend for almost any customer-facing business right now, there are some other trends that you can use to your advantage.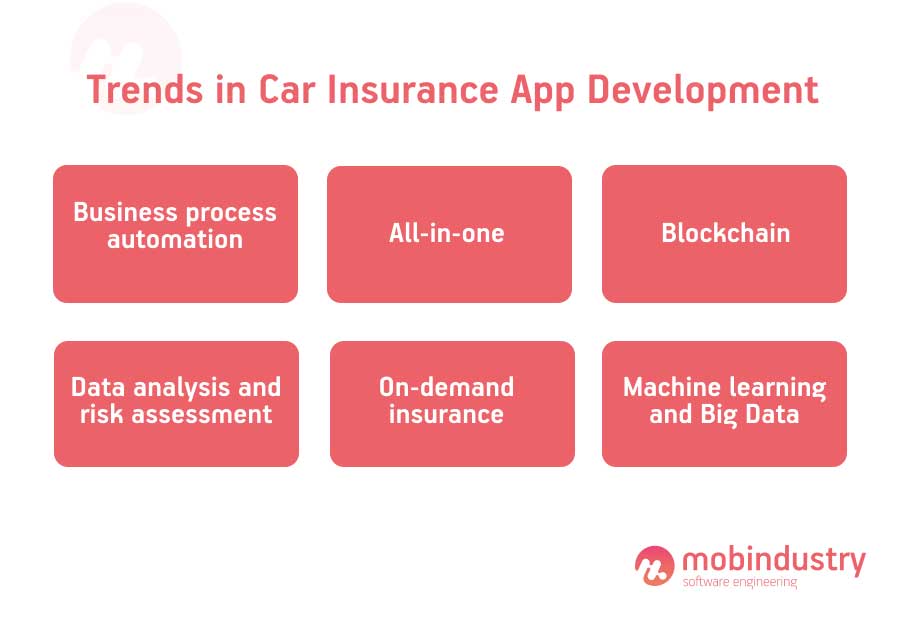 Business process automation
Automating as many business processes as you can will lead to company's savings, fast service, and a lower cost final product, giving you a competitive advantage. Automation can be used in
Customer support through chatbots
Claim processing
Transaction processing
All-in-one
You can save yourself and your customers time by adding most services you provide to a mobile application. The convenience of using a mobile application that displays all offers and services in one place instead of requiring customers to call insurance agents or visit their offices will increase user satisfaction.
Data analysis and risk assessment
With the access to customer data, for example, to smart systems in your customers' cars, you can track their behavior on the road and assess the crash risk. Other data you can collect includes the technical state of a vehicle, actual mileage, and so on. As you gather more data about your customers, you have more opportunities to offer them a plan tailored to their driving behavior. This approach is called usage-based insurance.
You can also analyze historical data and make predictions based on their previous experiences. Customers with good driving records and cautious driving habits can receive discounts and rewards, which will increase their loyalty to your company.
According to an IBM study, 74% of insurance companies report that the use of data and analytics is creating a competitive advantage for their organizations. No wonder why safe-driving insurance apps with advanced analytics are becoming increasingly popular.
Blockchain
Blockchain can be used by insurers to enter data on all contracts, customers, insurance claims, and so on. Blockchain increases transparency, as it allows insurance companies to store data in an independent database.
On-demand insurance
On-demand insurance is perfect for people who don't use insurance constantly but may need it immediately. For example, if you decide to rent a car, but you don't have car insurance, you probably don't have time to go to an office and choose a policy.
In this case, instant on-demand insurance apps work like charm. Customers can specify all their trip details in the app and can get temporary insurance for any period of time, from hourly to monthly.
Machine learning and Big Data
Machine learning is important for automation, and paired with Big Data, it allows insurers to process information about their customers and automatically suggest the best solutions for individual clients. Both of these technologies can be used in risk assessment, forecasting, and audience segmentation.
Now let's talk about the types of car insurance applications.
Types of car insurance apps
All car insurance applications can be divided into three types by the main issue they resolve. There are:
Money-saving apps that provide tips on user driving efficiency, fuel consumption, nearest gas stations with the best prices, and so on. Such applications reward users for safe driving and other behaviors that decrease the risk of getting into an accident. They can also be called car insurance reminder apps.
Time-saving apps that help drivers build optimal routes to their destination by considering traffic jams and other factors. Time-saving apps also allow users to file insurance claims quickly and simplify the policy registration process.
Risk-reducing apps that provide drivers with safe driving tips and guides to minimize the risk of getting into an accident.
Many modern car insurance applications combine features from each type of application and provide a universal solution for drivers. Let's now look at the must-have features you need to implement to create the best app for auto insurance.
Must-have features for a car insurance mobile app
In this article, I focus more on a client-oriented insurance application. However, if you want to digitize your insurance business, you'll also need separate software for your insurance agents and administrators.
Let's talk about the features of the best app for car insurance and other software. We'll start with a client application.
Customer mobile application features
Personal profile
A personal profile should contain information about your client and the insurance object, their vehicle.
Policy details
All your policies should be displayed in your application so that your customers can check them any time.
Policy search and recommendations
Allow your customers to look through all available policies, and provide policy recommendations based on their vehicle, income, age, family members, and so on. Your users should also be able to switch policies without having to visit your physical branch.
To make the process of choosing a policy easier, allow users to search according to certain parameters.
Quotes
Display quotes to allow your customers to assess each policy.
File a claim
All the best car insurance apps for Android and iOS have this feature.This is the most important feature in your car insurance app, so I recommend focusing your resources on digitizing claim filing. The ability to file a digital claim is a primary reason for most users to download your app, so you need to make sure it's an easy and efficient process.
Ideally, your user should be able to enter all necessary data and add photos right from the application.
Payment gateway
Payment processing is another time-saving feature that improves the overall customer experience for your users. They should be able to pay for their insurance right from your app without having to go to a bank or open their banking application. Incorporating automatic payments will further improve the customer experience.
Customer support
Every insurance company already has customer support, so all you need to do is give your customers access to your support team via an app. This can be implemented through in-app calling or a request-a-call feature. This service should be available 24/7, as accidents can happen any time of day or night.
Chatbot
If you want to build the best car insurance app and bring your service to the next level, chatbots are for you. AI chatbots are beneficial for many businesses, and car insurance isn't an exception. With a chatbot, your customers can quickly verify their identity, settle claims, and so on. Chatbots can help answer generic questions and free your staff for resolving more intricate issues.
Push notifications
Predictability is important for customer satisfaction because no one likes to feel uncertain after filing a claim. Add push notifications to your app to notify customers of changes in the claim settlement process, and increase your sales by notifying customers about your new services, discounts, and special offers.
Image and document uploading
Give customers the ability to upload photos, documents, and medical records via an application: this will save time for both you and your customers.
Maps and geolocation
Integrate your application with maps so that customers can build routes and look for gas stations, mechanics, or other services. Also, with this function users can share their location if an accident does occur.
Integration with IoT devices
Many car insurers use IoT devices to track data about the vehicle, a client's driving style, and so on. You can either provide a motion sensor yourself or allow the app to connect to the smart car. Your smart system can then gather and analyze the vehicle data to provide valuable insights. Based on the data you gather, you'll be able to assess risks and reward your low-risk customers.
Insurer application features
Now let's talk about the features of your employee application. You can develop an auto insurance app for either mobile or web platforms, depending on their work environment. For example, if they work at an office and use desktop computers or laptops, a web app will be sufficient. Mobile apps are perfect if your employee is working from a tablet or a smartphone.
The features for your insurer app should include
Login and verification
Agent profile
Policy list
Quotes
Notifications
Access to customer data
Claims history
Claim status
Admin panel features
Your admin panel is software for you and your administrators. Through an admin panel, you can see overall business performance as well as monitor and manage your employees.
The main features of an admin panel are analytics and access to all data about your customers and employees. With advanced analytics, you can see everything from your earnings and the most popular plans your customers choose to your employee performance, number of processed claims, and so on. You can also change content in your car insurance claim app through an admin panel.
How to build a car insurance app
Like the development of any software, the car insurance app development process consists of these steps:
Define your idea. Before looking for developers, it's good to have a vision of your future product. Figure out what issues you want to resolve with your app and how you want it to look. If possible, write out the main features you want to include and the requirements your app must meet.
Find and hire a reliable insurance mobile app development company. You can find developers through recommendations, listings like Clutch.co, or a Google search. Your potential partners should give you a rough price estimate and offer to sign a contract.
Build a technical specification. During the discovery phase, a business analyst will help you translate your vision into concrete technical requirements. This will be the foundation for a technical specification: a document that describes all parts of your project, from technologies to functionality.
Select technologies. A technical team will help you select the tech stack perfect for your needs, budget, and timeline.
Extract MVP features. Choose the most important features for the initial version of your product, and develop them first.
Develop, test, and release your MVP. Your development team should develop an app according to the technical specification; however, the process can be changed on request according to your current business needs.
Improve and maintain your app. After the release, it's time to offer your app to your clients and listen to their feedback so you can modify it according to their needs. From now on, your application will also require regular maintenance and system updates.
How much does it cost to build a car insurance app?
The car insurance app development cost depends on multiple factors:
App size
Scope of work
Technology stack used
Included features and their complexity
Development team size
Cost of third-party services and integrations
Hourly rates of your developers
The hourly rates of your car insurance app development company are probably the most influential factor, and the rate usually depends on the location of your development team. For example, in Ukraine, mobile app development services cost on average $25–70 per hour, whereas in the US prices start at $80–100 per hour.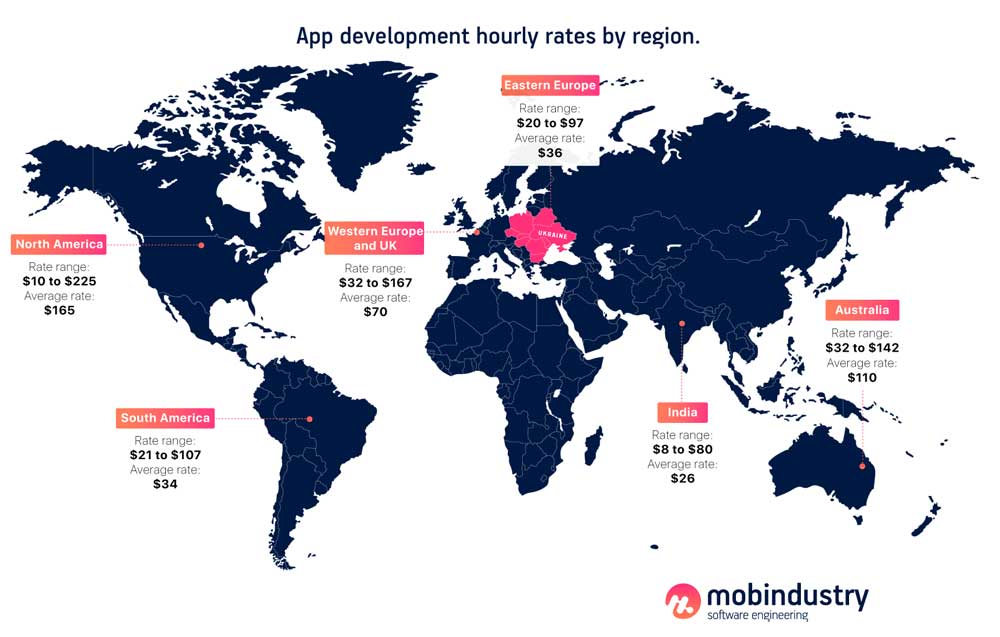 A typical team for car insurance app development looks like this:
1 project manager
1 UI/UX designer
1 business analyst
1 Android developer
1 iOS developer
1-2 frontend developers
1-2 backend developers
1-2 quality assurance specialists
Android and iOS developers can be replaced with one cross-platform developer who works on Flutter, for example. Thus, if you utilize a cross-platform developer, you can save at least 30% of your app development budget.
If you need a more advanced application that incorporates the latest technologies, you may also need a data architect, AI/ML engineers, cloud computing experts, and other specialists.
The starting price for an MVP of one cross-platform car insurance app for clients and a web app for employees and an administrator is $25,000. Developing a full-fledged car insurance digital infrastructure may cost $70,000 or more.
You can also choose to create an app for car insurance online with the help of builders, but the quality and customization abilities will be quite limited.
Final thoughts
Car insurance businesses benefit largely by offering mobile solutions to their clients. Apart from helping customers save time and money, they get access to valuable data and get new opportunities to increase their sales and offer additional services.
For your new digitized business to function properly, you need three main components: a client app, an application for your insurance agents, and, of course, an admin panel for yourself.
To get a precise quote for development, you need to start with a technical specification
You can lower your budget by choosing cross-platform and web technologies, as developing web apps is often easier and faster than mobile applications. To get a precise quote for development, you need to start with a technical specification: only this document provides enough information for an accurate estimate.
If you'd like to get a quote and find out how much a car insurance app for your business would cost, don't hesitate to contact us. We provide full-cycle development services and will help you with everything from your technical specification to development as well as integration with your current business operations.
If you're looking for someone who can create an app for car insurance companies, we'll be happy if you shortlist us!
Frequently Asked Questions
The starting price for an MVP of one cross-platform car insurance app for clients and a web app for employees and an administrator is $25,000. Developing a full-fledged car insurance digital infrastructure may cost $70,000 or more. The cost depends on:
App size
Scope of work
Technology stack used
Included features and their complexity
Development team size
Cost of third-party services and integrations
Hourly rates of your developers
The first step is a discovery phase. Before looking for developers, it's good to have a vision of your future product. Figure out what issues you want to resolve with your app and how you want it to look. If possible, write out the main features you want to include and the requirements your app must meet. Then, when you find a development team, a business analyst will create a technical specification based on your requirements, and help you plan the whole development process.
Rate the article!
🌕 Cool!
🌖 Good
🌗 So-so
🌘 Meh
🌑 …