Top 10 Best Insurance Apps for iOS and Android in 2023
Insurance companies appeared on the market a long time ago, and insurance stays in demand because security is always a matter of concern. However, some people still avoid getting health insurance because it's a long and effortful process. Developing a mobile app can be a turning point in business growth for a health insurance company. Mobile apps give customers a technological solution to their problems. In this article we will discuss top insurance mobile apps.
Why make an insurance mobile app?
Nowadays, people spend lots of time on their phones. Mobile phone usage statistics show that 90% of the time spent on mobile devices is spent on apps, and there were 194 billion downloads of mobile apps in 2019.
Based on the statistics shown above, we can conclude that the number of smartphone users will keep growing and that the app industry is thriving.
Today, mobile apps can solve almost every problem, and businesses that have jumped on this trend are becoming more successful every day. Insurance companies are no exception.
Mobile applications are beneficial to both customers and insurance company owners.
Benefits of insurance apps for customers
Easy to get insurance. It takes just a few clicks to get insurance with the help of a mobile app.
Online consultations. Going to an insurance company to get a consultation is time-consuming. Features like in-app chat and customer feedback can save time.
Notifications. An insurance app can remind people about the expiration of their policies and about various discounts.
Quick access to information. In a mobile app, customers can find any information they need about your company in seconds. Information can be accessed through a single interface.
Location detection. Top mobile apps for insurance usually have a geolocation feature. If an incident occurs and a customer is confused and doesn't know their exact location, for instance, the insurance agent may be able to use this feature to find out where they are.
Detailed guides. Customers can get immediate access to information on what they should do in the case of an incident.
Benefits of insurance apps for companies
Process automation. Mobile apps automate the process of getting insurance.
Growth of the customer base. The number of insurance apps is growing, as is the number of people who use them. Developing a mobile application can attract new customers.
Simple communication. Apps for insurance provide a constant connection with customers. If your operators are busy or not available, a chatbot can help.
Fast insurance policy issuance. Your employees will have more time for more urgent tasks.
Personalized offers. An application for insurance can collect data on each user so you can create personalized offers.
Fast feedback. When a client reports a claim using an app, you have the opportunity to respond quickly.
Today, mobile apps can solve almost every problem, and businesses that have jumped on this trend are becoming more successful every day. Insurance companies are no exception.
What to know when developing a health insurance mobile app
Now that you know all the benefits of developing a mobile application for a health insurance business, let's discuss the services such an app can provide.
Medical insurance applications usually offer three main types of functionality:
Functionality for patients
This includes the ability to search for doctors, access documents, and receive reminders.
Functionality for healthcare providers
This includes access to patient histories and patient–doctor communication.
Functionality for choosing and purchasing insurance policies
This part of an insurance mobile app helps users choose health insurance plans and purchase and renew policies. It includes in-app payments, the ability to communicate with insurance agents, etc.
By implementing these three components, you can provide your users with a full and enjoyable experience.
When creating a mobile application for health insurance, don't forget about privacy concerns. Before presenting your app to the market, make sure it complies with data protection laws. If it doesn't, the App Store and Google Play Store can reject your application due to security concerns.
Data protection laws you should comply with:
US – Health Insurance Portability and Accountability Act (HIPAA)
EU – Regulation (EU) 2016/679 (General Data Protection Regulation) and the e-Privacy Directive 2002/58/EC
Canada – Personal Information Protection and Electronic Documents Act (PIPEDA)
Top 10 health insurance apps
Now let's see what insurance companies have already successfully implemented mobile apps into their businesses. Here are the ten best apps for health insurance in 2023:
Oscar Health

myCigna

Religare Health

MyAmFam

Blue Shield of California

Reliance Self-i

Aetna

MyHumana

HDFC Life Insurance App

Star ATOM
Oscar health is an American health insurance company founded by Mario Schlosser and Josh Kushner in 2012. Oscar was among the first insurance companies to understand the value of and implement a mobile technology solution for health insurance. The Oscar app helps users manage policies and connects patients with doctors. It has over 250,000 users and partners with over 3,500 doctors. Every member gets a dedicated concierge team made up of care guides and a nurse who are ready to help every step of the way.
Primary features of Oscar Health:
Symptom, doctor, and drug search
Doctor on Call feature (free consultation with a doctor via phone)
View plan info
Online communication with the Concierge team
Access to a digital ID card
Reward system
Cigna is a global health insurance company. The myCigna mobile application provides Cigna customers with quick on-the-go access to health information and the ability to personalize and organize it. App features can differ based on the plan (medical, dental, pharmacy, vision, behavioral, disability, accident). myCigna is ranked #76 in the Health & Fitness category on the App Store.
The myCigna app helps users keep track of their medical expenses and see how close they are to their yearly deductible or out-of-pocket maximum. It also allows customers to see claims for any family member for any care provided within the last two years. And if a plan includes certain kinds of Health Savings Accounts, customers can even find out how much they've saved up and how much they've spent. myCigna is one of the best insurance app for android.
Primary features of myCigna:
View ID cards for the whole family
View, search, bookmark, and group claims
Check account balances
Health savings account
Search for drugs and find the nearest pharmacy
Health care professional directory
Procedure search
Coverage details
Incentives
Health wallet
Religare Health Insurance Company Limited is an Indian health insurance company created in July 2012. Religare Health is an app that was designed to help users manage their Religare health insurance policies. With this app, people can book appointments for health check-ups at any location and view and download health reports. The app also has cashless outpatient services that are accessible by scanning a QR code. Religare Health is ranked #45 in the Health & Fitness category on the App Store.
Primary features of Religare Health:
Ability to link an existing policy to the app
Policy management
Self-help (users can modify what they need in the policy, change their address, email, phone number, etc)
Instant policy renewal
Easy claims management
Discounts on various products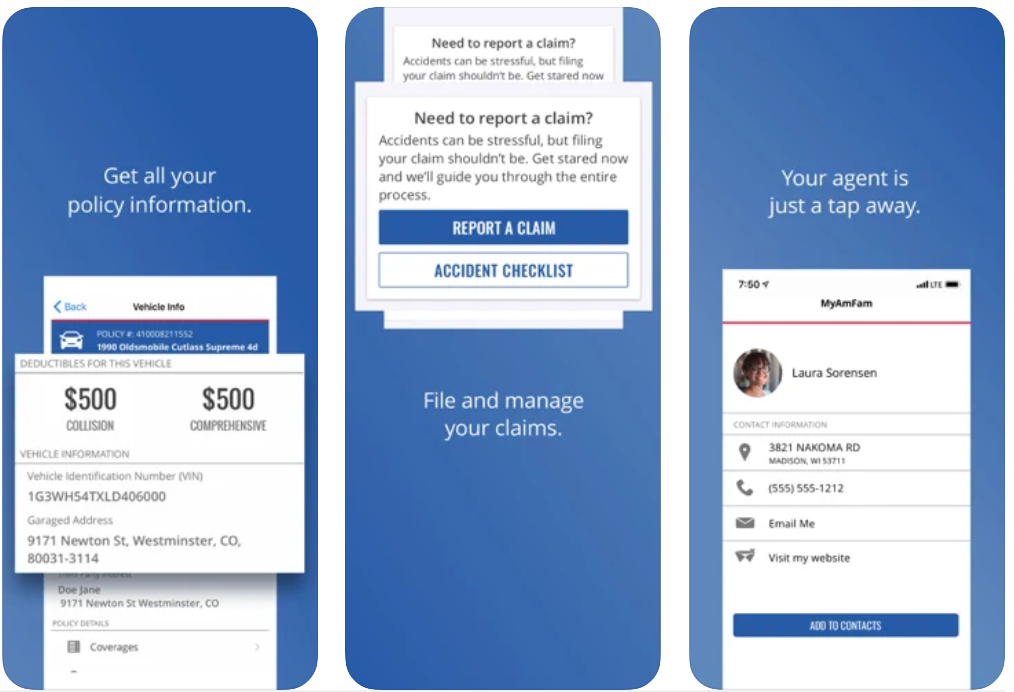 American Family is an insurance company based in Madison, Wisconsin. American Family Insurance offers health, life, vehicle, homeowners, business, and farm/ranch coverage.
The MyAmFam app makes it convenient for customers to keep track of all their American Family insurance policies. It offers a wide range of features from scheduled payments to claims and incident support. Users can check their payment status in real time, request a policy change, or get in touch with billing staff. MyAmFam is one of the best insurance app for iOS.
Primary features of MyAmFam:
View insurance policies
Access account details
Fingerprint or Face ID authentication
Payment management
Scheduled payments
Reminders
Communicate with an agent
Claims & accident support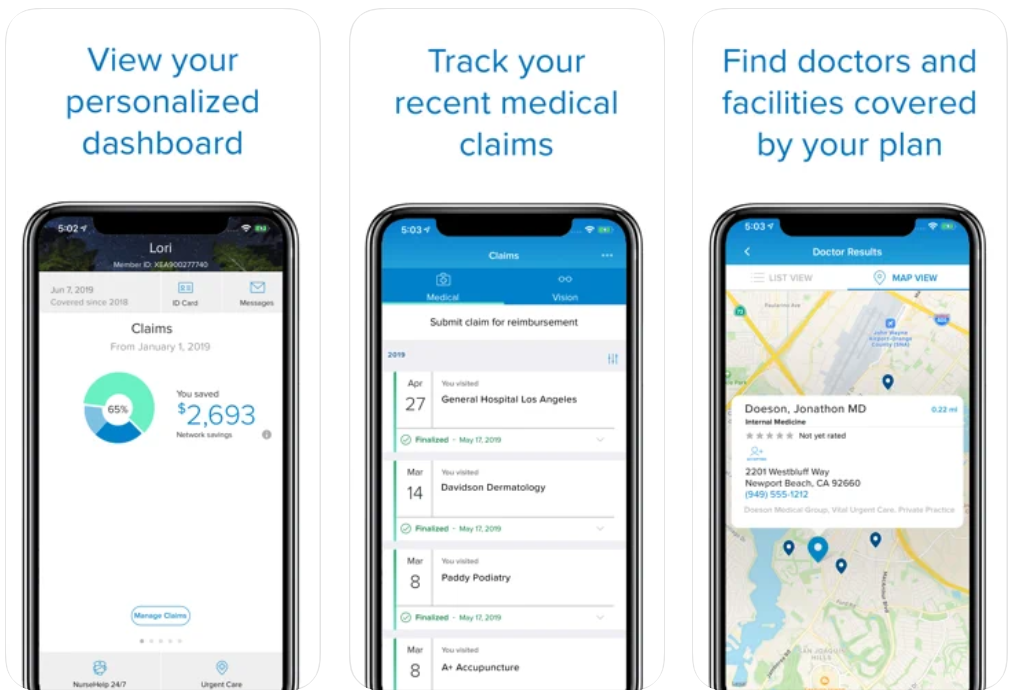 Blue Shield of California (BSC) is a health insurance provider that was founded in 1939 and is based in San Francisco. The company launched its mobile application to help customers manage their health from anywhere. BSC provides its members with enhanced 24/7 service and features that range from plan information to tools for finding urgent care.
Primary features of Blue Shield of California:
Personalized dashboard
Search for doctors and facilities by filters including specialty, location, and name
ID card
Tracking of plan usage
Claims management
Health insurance plan information
View benefits (custom, general exclusions, benefit maximums)
Benefit discount programs
Find urgent care
Fingerprint login
Reliance Self-i is the mobile application developed for Reliance General Insurance that was designed to speed up and simplify insurance claims and policy renewal processes.
This app assists users with quick claims processing and provides real-time claim statuses. The Reliance Self-i App lets users store policy and related documents safely in an E-Doc Vault.
Primary features of Reliance Self-i:
Login with mobile number and one-time password
Notification of claims status
Instant claim generation
Schedule an in-person survey with experts
Quick renewal
E-Doc Vault for policy-related documents
Instant locator for finding the nearest hospitals, garages, and branches
Customization and user-friendly navigation
Purchase policies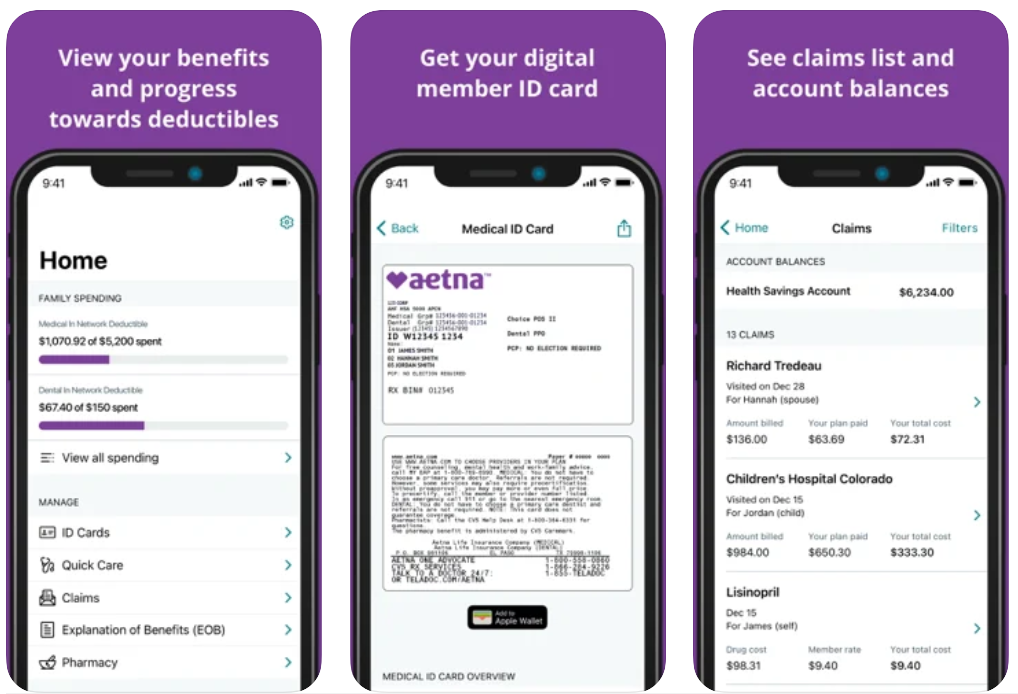 Aetna is a health insurance company founded in 1853 in Hartford, Connecticut. Aetna launched its mobile app to connect with customers faster and easier. Through the mobile app, Aetna guarantees an answer from an agent or a doctor within three minutes. The app is available for almost every Aetna member, but within a few months, it will be accessible to all members.
Primary features of Aetna Health application for life insurance:
Quick access to plan details
ID card access
Progress tracking
View PayFlex® HSA, HRA, and FSA account balances
Claims management
Search for doctors and facilities by location, profile, and specialty
Compare costs for different doctors
Drug search
Personal health records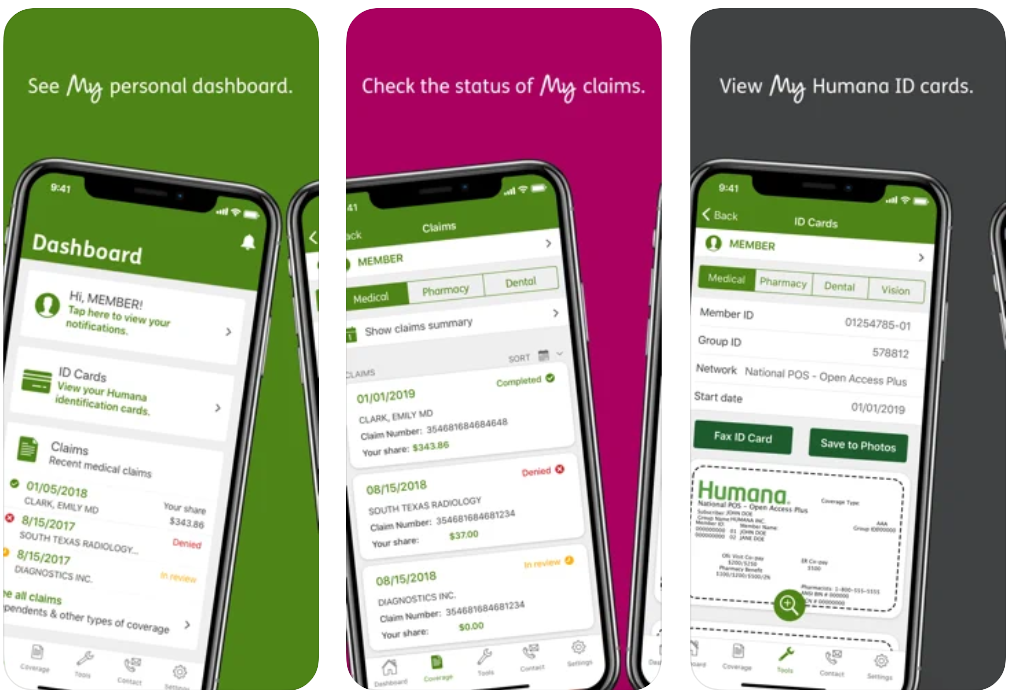 Humana is a health insurance company based in Louisville, Kentucky, that has been in business since 1961.
The MyHumana mobile app gives customers access to health information on the go, allowing them to manage their healthcare needs and schedule visits to doctors. Users can review their latest claims, including summaries and detailed information. They can search for a doctor or a pharmacy by specialty, provider, or zip code.
Primary features of MyHumana:
View plan details
View, save, and fax medical, dental, and pharmacy ID cards
Check drug pricing
Claims
Provider finder (requires location sharing)
Premium payment for HumanaOne and Medicare members
Profile
HDFC Life Insurance Company Limited is a joint venture between HDFC Ltd., one of India's biggest housing finance institutions, and Standard Life Aberdeen, a worldwide investment company. HDFC Life is a leading life insurance company in India that has been offering a spectrum of insurance solutions such as protection, pension, tax savings & investment, and health since 2000.
The HDFC Life Insurance App allows users to browse different life insurance plans and analyze their benefits.
Primary features of HDFC Life Insurance App:
Social login (Facebook and Google)
Buy life insurance plans
Track policies
Upload documents
Schedule medical checks
Monitor each step of the insurance application process with the Application Manager
Expert assistance
Branch locator
Claims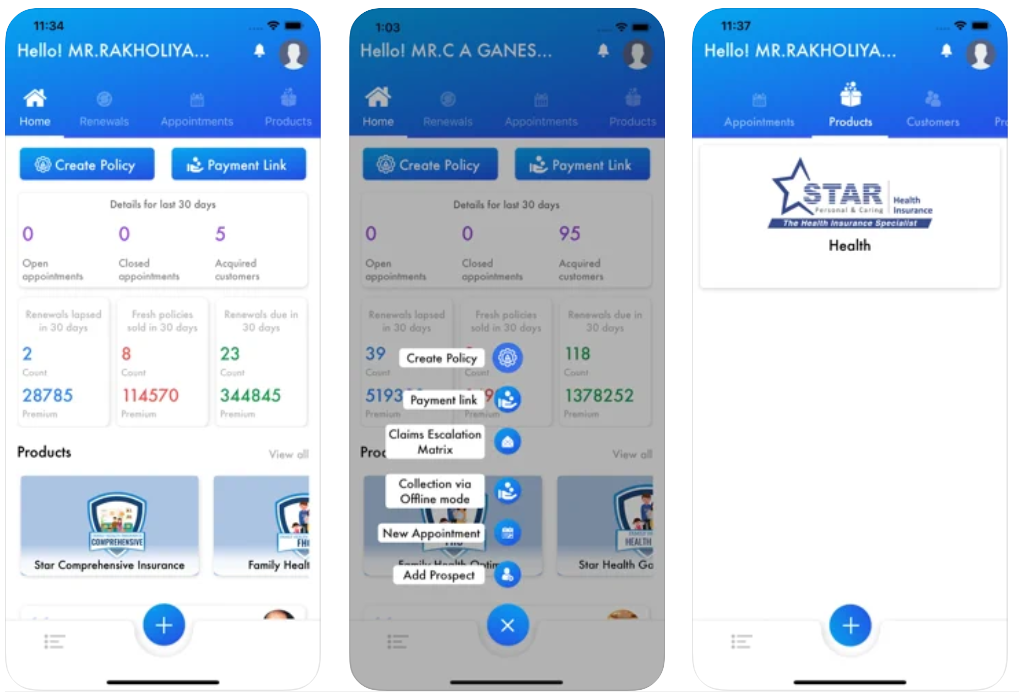 Star Health Insurance, founded in 2006, is India's first standalone health insurance provider. Star Health has two mobile apps: Star Power (for clients) and Star ATOM (for agents). Star ATOM is the best app for insurance agents in India.
Star ATOM helps agents provide effective customer service. Agents can use this app to complete the policy sales process.
Primary features of Star ATOM:
Share product information with customers via SMS/email
Send alert and payment links via SMS/email
Personalize customer interactions by sending birthday wishes
Report generation
Information on customers' claims
Management of follow-ups for policy sales, policy issuance, etc.
Creation and management of medical appointments for customers for medical screening before policy issuance
Get an example of the Discovery Phase documentation for your digital project
Get our exclusive materials on software development for business
Conclusion
Based on the statistics we shared at the beginning of this article, our world is going mobile. People are more likely to choose an insurance company if it can provide them with a mobile app.
Today, the insurance mobile application market is still growing, but there are already quite a number of good and successful apps. They all provide customers with similar basic features but stand out because of their specific functionality.
Insurance app development services
Are you planning to create a health insurance app? We will translate your app idea into an intelligent and powerful mobile solution
Frequently Asked Questions
Today, mobile apps can solve almost every problem, and businesses that have jumped on this trend are becoming more successful every day. Insurance companies are no exception.
When creating a mobile application for health insurance, don't forget about privacy concerns. Before presenting your app to the market, make sure it complies with data protection laws. If it doesn't, the App Store and Google Play Store can reject your application due to security concerns.
Rate the article!
🌕 Cool!
🌖 Good
🌗 So-so
🌘 Meh
🌑 …