How to Deliver Health Insurance via Mobile Apps
While we enjoy the benefits of mobile applications in many aspects of our lives, healthcare is lagging. We still run into the same tiresome and inconvenient red tape that could be eliminated with the help of mobile solutions. Let's find out how health insurance mobile apps can actually make it cool.
Market overview
The global health insurance market continues to grow, and right now there's a great opportunity for private companies to step in as people mostly use private programs. The private health insurance market, already worth $1.6 trillion, is expected to double its revenues by 2025, according to McKinsey.
But, despite the high level of competition, this industry doesn't seem to be very fast at adopting technologies that have been successfully adopted in other industries including retail and logistics.
Healthcare is trying to make technology work, as evidenced by the many fitness and healthcare apps out there, but still the overall healthcare market is rather clumsy when it comes to optimizing work with technology.
Think about what receiving healthcare services looks like today. It's overly complex, with lots of red tape, phone calls, and waiting. If something happens, you need to call your provider and wait till they pick up the phone (hopefully, they do). Then you need to choose among a number of options, wait for a real person to talk to, and then dictate your policy number. The process is truly tiresome, long, and downright painful.
If you forget your number, you'll probably need to fill out a form and email it to your health insurance company. As you can see, people need to go through lots of inconveniences to get medical help, and it's embarrassing when you think about how easily this could be avoided with a mobile application.
In this article, we explore how a mobile solution can make health insurance convenient, fast, and easy for customers and also more profitable for your business. We will also calculate the cost of health insurance mobile apps development.
Benefits of a mobile app for health insurance
We've talked a bit about the problems that a mobile application can solve for customers. Now let's talk about the problems they can solve for your business. A mobile app can make your insurance company more profitable and effective. How?
First, with a mobile application information exchange between clients and your company will become faster than ever, as there won't be any need for tiresome calls. This means that you'll need fewer resources to support your call center. You'll also probably need fewer insurance managers, as they'll spend significantly less time on each client.
On the other hand, you can keep the number of managers the same but scale your business by attracting more clients. This will become much easier as the convenience of your service will likely draw attention.
A mobile solution can also help you sell more of your services, as you can have a separate screen in your application displaying options for auto, life, and home insurance.
The most important thing is to make your mobile software really convenient. Some companies are already trying to adopt IT, but while they have enough resources to create a health insurance app, they often lack the knowledge about mobile best practises and knowledge to do it properly.
The best way to solve this problem, is to get mobile experts to make an app that will meet both your company's and clients' needs. Let's see what components you'll need to make a great health insurance app.
How to make a health insurance mobile app
What makes an app great? Features, of course. We'll talk about the features you need for your health insurance mobile app.
1. In-app calling
How people call your company is probably the first thing you need to fix to make your service effective. The ability to call a company from an application is a must-have feature, but still you should think about other options such as live chat.
2. Live chat
Many people prefer text-based chats over phone calls. If you browse through most online services, you'll notice that online support chat has already become a standard.
Chat gives your managers the opportunity to answer clients' questions and manage several clients simultaneously. You can also provide customer care through live chat.
3. Document access and sharing
This feature will save your customers from losing information or needing to fill in long forms or send emails. Now they can use an app to find a health insurance documents (for example, their medical record) and send it to one of your managers. Security is extremely important when sharing medical documents: you'll need to use encryption to make sure information doesn't get into the wrong hands.
4. Purchasing and renewing policies
Making purchases via mobile apps is popular and convenient. You can increase your sales by offering quick policy purchasing. Allow your customers to see all plans and choose one and pay for it immediately in your application.
If your client already pays for an insurance policy, make it possible to renew it in your app as well.
5. Basic diagnosis and treatment
It's great if your app has some functionalities of a healthcare application. Giving your customers health advice can distinguish your service from others.
You might want to include basic symptom-based diagnosis, descriptions of common ailments, and advice on their treatment.
6. Location-based services
You'll definitely need maps for your mobile app. Users need to be able to see all hospitals and healthcare centers near their current location. And if anything happens, your app can let users simply share their location with a company or doctors instantly instead of explaining where they are.
7. Claim statuses
There's usually a massive communication problem between clients and insurance companies, because clients need to call their managers each time to find out how the process is going. A mobile app can eliminate it and sync all data to allow users to see the status of their claims in real time.
8. List of products and policy details
Your clients should be able to check their policy details at any moment, so it's good to show this information right in your mobile app. This will help to avoid many questions.
You can also use your app as a tool for upselling, as you can highlight your other products there.
These are the features for a health insurance mobile app. Also, don't forget about the UX and UI which has to be clear and simple, and remember that your application has to be as simple as possible.
Now let's see some examples of great apps.
Health insurance apps
We had a hard time finding decent applications from insurance companies because they usually lack important functionality, resulting in poor ratings on app stores and few downloads.
Here, we'll show you a few examples best health insurance apps that can give you some ideas for your own mobile app.
HIPAA app
This app is rather simple when it comes to functionality, but it's very useful when it comes to sharing personal data. The HIPAA application lets users fill in and change their personal information, choose what medical records to share with the company, and auto-fill forms. This application also enables users to share and print reports.
Life Happens: Needs Calculator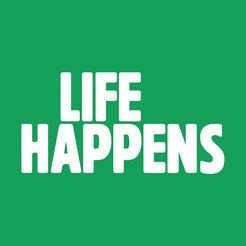 This simple app will show how much coverage you actually need according to your financial state. After filling in some basic financial information, this application will offer you suitable policies.
You can think about adding similar functionality to your own app to help your customers choose the right plan.
Health insurance mobile app cost
The cost of making an app consists of two factors: the complexity of your application and the hourly rate of your development team. Rates usually depend on the territory.
Here is the estimated number of days developers will need to implement core features. You should note, that this is a very rough and it doesn't include the preparatory stage, the quality assurance, design and release.
| | | |
| --- | --- | --- |
| Feature | Days (min) | (max) |
| In-app calls | 1 | 2 |
| Live chat | 4 | 60 |
| Document access and sharing | 2 | 2 |
| Purchasing and renewing insurance policies | 3 | 6 |
| Basic diagnosis and treatment tips | 3 | 10 |
| Maps and routes to hospitals | 2 | 7 |
| Status claims | 3 | 7 |
| List of products and policy details | 3 | 10 |
Conclusion
Mobile apps have already became an important part of many industries, and we strongly believe that such a huge market as health insurance also needs to become more modern and convenient for everyone with the help of applications.
Creating a health insurance mobile app is a win-win, as it will become easier for your customers to interact with your service and your business will instantly become more competitive, as very few insurance companies actually have good mobile apps.
Insurance app development services
Want to create a health insurance app? We will translate your app idea into intelligent and powerful mobile solution
Rate the article!
🌕 Cool!
🌖 Good
🌗 So-so
🌘 Meh
🌑 …