White-Label App vs Custom App: Which to Choose
There are lots of decisions you need to make when it comes to mobile development. Choosing between a white-label app and a custom app is one of the major choices you need to make before development begins. In this article, you'll learn the ins and outs of both approaches to getting your business into the mobile world
Almost every business needs some sort of mobile presence. Some businesses choose to create mobile websites, while others opt for progressive web apps. But mobile applications are by far the most convenient and user-friendly solution.
There are lots of ways to create a mobile application for your business. Custom development is rather costly, and non-technical businesses that need a presence on a mobile market have been reluctant to create their own mobile applications. That's when white-label apps come into play, offering businesses a generic solution for minimum investment.
Custom development is rather costly, and non-technical businesses that need a presence on a mobile market have been reluctant to create their own mobile applications
In this article, you will learn what white-label applications are, their pros and cons compared to custom apps, and how to choose the strategy that best suits your business.
What is a white-label app?
A white-label application is an application built to be resold to multiple businesses with all the rights to the code. When a business purchases a white-label app, they can customize it and use it as their own.
Usually, white-label applications are industry-specific and include a set of features that are typical for a particular type of application for a particular industry.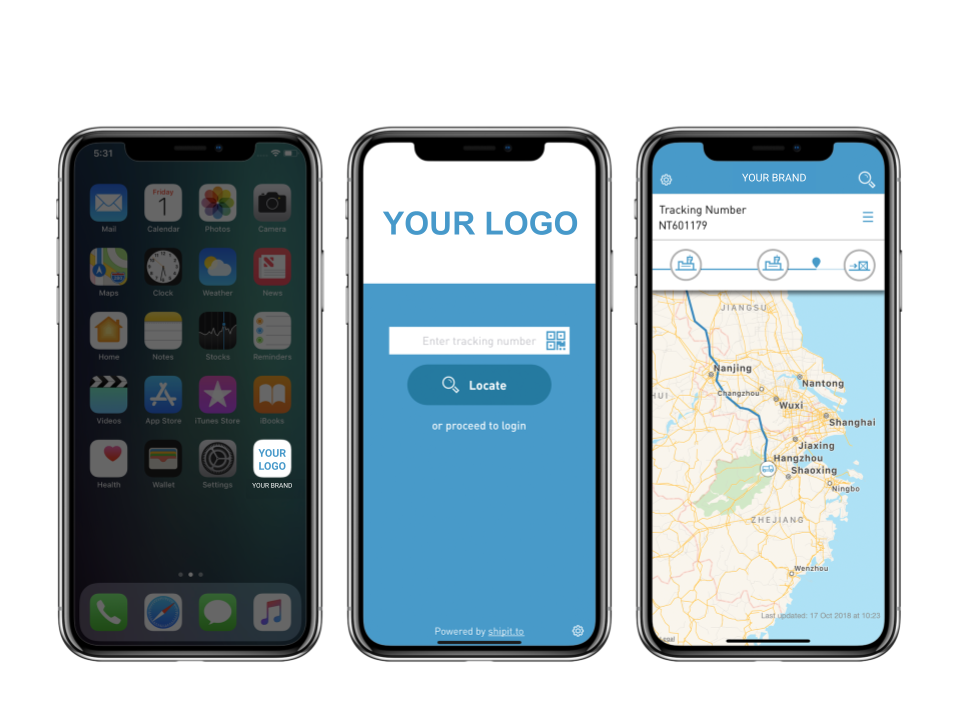 For example, ecommerce applications are usually quite similar: they have listings, search and filters, a checkout, and so on. If a small retailer wants to offer their customers a mobile application without lengthy and costly mobile app development, they can license a white-label application, add their brand colors and a logo, customize some features, and market the app to their customers.
Some businesses purchase white-label applications in order to resell them to other businesses with customization. White-label app development is very popular in various industries from tourism to ecommerce.
Types of white-label applications
There are two main types of white-label applications that differ in terms of how complete the app is. A white-label app provider can either sell you just the back end of the app or can sell you a full application with both the server and client sides. What's the difference between these two options?
If you only get the back end for your app, you're free to create the front end yourself. This gives you more flexibility and customization opportunities. However, if you don't have developers in-house, you'll need to hire someone to build the front end on top of the infrastructure of a white-label application.
White label app benefits If you purchase a fully developed app with both server and client components, you'll only need to slightly customize it. The downside of this approach is that you'll have very little space for customization and scaling. Once your business requires anything more than you already have, such as more advanced functionality or infrastructure that can handle a greater load, you'll need to find another solution.
White-label app vs custom app: what's the difference?
White label software development provides you with a totally or partially ready solution that you can customize to an extent. It doesn't require a large investment, and you get a product that you can label and market as your own to your customers. A white-label application can be used by any business in your industry.
Custom development is a completely different approach to getting your business into the mobile market. When you develop your custom app, you build it specifically for your business needs and your target audience, and it reflects your business processes as well. Custom made apps are usually more flexible and scalable than a white-label alternative, and you can be sure that its architecture is built with your goals in mind. If you plan to change your app to keep up with market trends or add new functionality, you'll be able to do it.
Let's talk in more detail about the differences between white-label apps and custom apps according to these criteria:
Customizability
Design
Cost-effectiveness
Scalability and flexibility
Maintenance
Security
Probability of app store rejection
Customizability
When it comes to customization potential, a custom developed application definitely wins. White-label applications don't leave much room for customization and personalization and usually give you only the opportunity to change some colors and labels, assuming they are complete solutions with both a back end and front end.
If you only purchase the back end, you get more freedom in customizing the app's look and feel and even adding your own custom features, but the restrictions from the back end remain.
On the contrary, when you develop your own custom application, there's a much higher chance that your app will reflect your business identity and goals and will also cater to your target audience. This is probably the most important benefit of a custom app.
In custom app development, the potential for customization is only limited by the architecture and technologies you choose, which is why it's important to choose a developer that will be able to take your future needs into consideration. With white-label apps, you never know what's under the hood.
Design
Here, we'll mostly discuss white-label solutions that provide you with the client part of the app with a basic design. Because white-label apps are meant for any business in a particular domain, they will likely follow typical design within that domain.
You'll most likely be able to only change certain elements of the design, as well as colors and labels, but not much more. So your application will look exactly the same as hundreds of other apps by other brands who have also purchased the same white-label solution.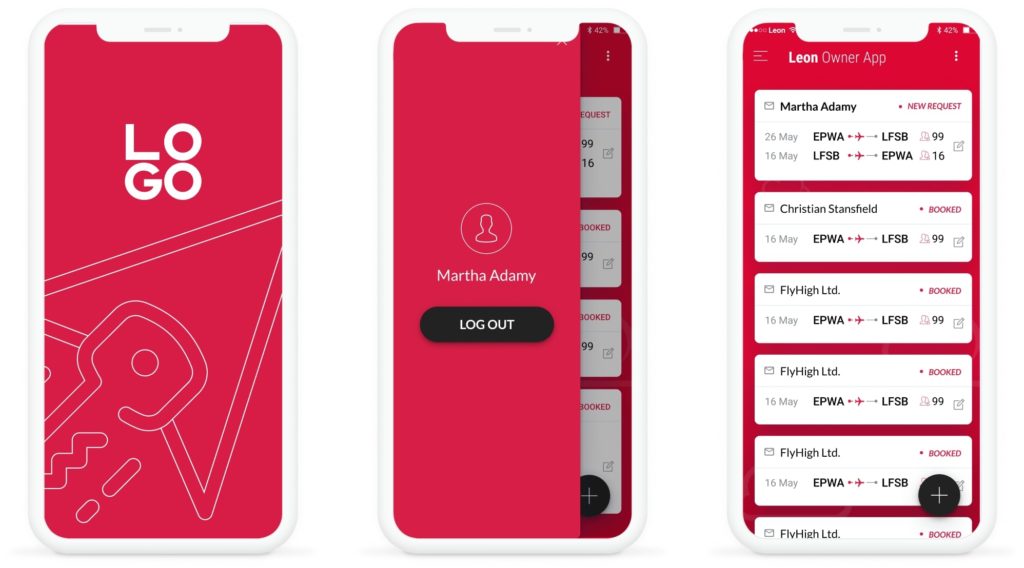 A custom app design allows you to fully reflect your brand identity and also add small touches like animations to your user interface. Although this may not seem important, your app's design reflects your investment and care for users, and people recognize it.
All this may not be vital for an MVP, for example, but if you plan to build a strong mobile presence, you should prioritize the visual experience.
Cost-effectiveness
Cost is one of the most important white-label app benefits. Purchasing a white-label app is way cheaper than creating your own application. When you build your own app, you not only pay for the development but also for business analysis, design, quality assurance, maintenance, project management, and so on. Most applications developed today require heavy investment because the market standards are high. Despite all the custom app development benefits, many businesses need to choose cheaper options.
White-label apps are attractive because they offer ready functionality for a fraction of the cost. However, once you try to expand your app's capabilities, you still need to pay for development, and changes often aren't possible even if you're ready to pay for them.
This is why white-label apps are perfect for testing the waters: they allow you to get an MVP and test your idea in real market conditions so you can see if it's worth investing in a fully fledged custom app.
Scalability and flexibility
Scalability in software development can mean different things:
Adding new features
Handling more users
Moving to other platforms
Working on new devices
In all these cases, white-label apps are hardly scalable. If you purchased an iOS application and decided that you also need access to the Android user audience, you'll need to either build an Android app yourself or wait for your vendor to release an Android version.
Imagine that your business has grown in a particular market, and now you want to expand to other countries. In those countries, people may use other devices and operating system versions compared to your initial market, and you need your app to work properly for your new target users. Adapting your white-label application will be hard, as it's made for a particular operating system and list of devices. Custom apps are much more flexible in this regard.
Maintenance and support
Both a custom and a white-label application need to be supported. The only question is which is easier to maintain.
On the one hand, white-label applications are resold so much that their code is already tried and tested. Building your own application may result in more bugs and inconsistencies.
At the end of the day, it's only the quality of software that matters. A good white-label app can be easier to maintain than a poorly made custom app, but poor-quality white-label apps are also quite frequent. Whichever approach you choose, make sure you're purchasing a high-quality product or partnering with professional developers.
Security
It's definitely a challenge to build a secure application, and if you choose custom app development, you'll need to take responsibility for your own app's security. This will require additional work and regular security checks. The good part is that you'll have full control over your app's security, performance, and quality.
With white-label applications, you get ready code and limited control over its security. If you don't know what's under the hood, it's best to ask a software development company to do a security audit of your white-label app.
Probability of app store rejection
In 2017, Apple banned all white-label apps on their App Store. Soon, they took back this decision, as it stood to harm thousands of small businesses. Still, white-label apps have a bad reputation in app stores.
Google Play and the Apple App Store both have rather strict guidelines that prevent similar applications from appearing on their platforms, and this means that with a white-label application you have a higher chance of app store rejection.
There's not much you can do if a white-label app gets rejected, and it's likely that you'll still need to hire developers or designers to make changes to your app's design and even functionality so that it's different enough from other white-label apps.
The only way to avoid the risk of app store rejection is to build a custom application with a unique design and functionality.
What to choose: a white-label app or a custom app?
There's no one-size-fits-all choice, so you should make your decision based on your unique situation and needs.
Choose a white-label app if:
You don't have enough budget for custom development. Cost is often the number one factor that makes white-label apps more attractive to businesses. If you don't have the budget for custom app development, a white-label application is truly a great alternative.
You need an application right now. If your deadline is extremely short, a white-label application can be a good solution for you because it requires minimum time; you don't have to spend months on preparation and development. However, you should remember that there's always a risk of app store rejection.
You don't need complex functionality. White-label apps work best for small businesses that don't need any complex functionality. Simple travel applications, ecommerce listings without any loyalty programs and complex bonus and discount systems, and other simple apps can exist as white-label apps.
The majority of your business is offline. If your business doesn't depend that much on a mobile app and you can provide your services without it, a white-label app is a good choice. Maybe you have a gym and you want to provide customers with a simple mobile app to manage their membership and book workouts online? A white-label app will work great. However, if you want to earn money on online workouts, you'll need a custom app with convenient video streaming functionality.
You want to test the waters with a minimal investment. A white-label app can work as your MVP. Before making a commitment to build a custom application, you can purchase a white-label app with basic functionality and see how your market responds. However, remember that users may not accept your app not because there's no demand but because the standards for the type of app you're building are higher than what a white-label app can provide.
Choose custom app development if:
You need complex functionality to provide a service. Custom app development allows businesses to implement every idea they have in mind, from complex business logic to augmented reality. If you have a specific idea and require more than basic functionality, custom development is for you.
You need great performance. Poor performance can kill an online business, and performance depends highly on great architecture and technologies. This is especially important for instant services like taxi rides. Imagine that you've built an Uber-like app and it constantly freezes or loads slowly when users are standing outside trying to get a car. This will immediately lead to your app being deleted.
You're in a highly competitive market. The more competition there is, the higher the expectations. If you have competitors who are also working on their mobile apps, it's important to provide the same or a higher level of quality to your customers, and also to be distinguishable from your competitors.
A mobile app is your source of revenue. Whether you're a startup with a mobile app as your main product or you're an offline business who wants to open another source of revenue in the mobile market, your mobile app should process payments, give customers special offers, and have advanced data collection capabilities for you to be able to market your services to particular groups of users.
A custom mobile application allows you to improve your marketing, gather data about users, and personalize your offers. There are lots of ways to increase conversions — such as through rich push notifications, gamification, and other unique features — that a white-label app just isn't able to provide.
How Mobindustry can help you enter the mobile market
At Mobindustry, we focus on custom app development and support businesses at all stages of their mobile app development journeys. However, we can help you with your white-label app as well by:
Performing a full code and security audit of your white-label app
Adjusting the design according to your brandbook
Creating a client side for your white-label product
Building new features for your existing app
Improving the architecture of your white-label app
Integrating additional services like payment gateways or maps into your app
As for custom app development, we can help you:
Perform market and competitor analysis
Decide on the best solutions and technologies for your particular business
Create advanced technical documentation
Define features for your MVP
Integrate analytics and choose the best marketing practices for your business
Develop both native and cross-platform applications
Find ways to lower your budget without sacrificing the quality of your app
Provide high-quality testing at every stage of development
Provide developers and other specialists to work with your existing team
Do regular maintenance and support existing applications
If you want to build a custom application, or if you'd like to improve your white-label application, feel free to contact us. Our specialists will suggest the perfect solution with regard to your requirements and business needs.
Frequently Asked Questions
A white-label app is a generic application built by a company to resell it to other businesses that can rebrand it as their own. White-label apps allow businesses to have their own app with the least possible investment. White-labeling allows you to maintain your brand identity across client-facing applications.
The answer depends on your goals, needs and conditions. If you need a simple application for your already existing business, and your budget doesn't allow for custom development, white-label app is a great way to get access to the mobile audience. However, if you plan to make money through your app, and you need a customizable and flexible solution that is able to scale, custom app development is your best option.
Rate the article!
🌕 Cool!
🌖 Good
🌗 So-so
🌘 Meh
🌑 …