Fuel My Run
Fitness app for runners
Maps and GPS navigation
GPS for runners to stay on track
Recommendation service
Sharing opinions to enable user networking and finding new routes
Accelerometer
Tracking of sport progress and achievements
Fuel My Run is the only app that helps runners nail their fueling
Fuel My Run for runners allows them to be make sure that they have enough energy to finish the race. Sportsmen, who plan to train for half-marathons, marathons or ultra-races will find it especially useful.
In addition, it helps track workouts, find new routes, connect with other users and share opinions with them. This app gives a great possibility to achieve better sport results and make every jogging experience unique.
Fuel My Run was selected the App of the Day on Appstore.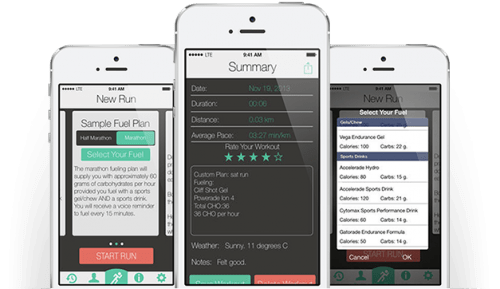 We have implemented
The client shared his visioning and experience, which the Mobindustry team then translated into detailed UX design and technical specs for an iOS app.
The team described and implemented such interesting features as a fueling plan with an integrated calorie calculator.
With the given app specifics, the development process required integration with such iOS device capabilities as accelerometer, maps and GPS navigation.
Technologies
Core Location

CoreData

HTML5

CSS3
Objective C
SWIFT
Want to experience a successful project?
Get a free consultation and see if our service is right for your business