Nashville Live Music Guide
Mobile locations & events city guide for live music fans
Audio streaming
Real-time music streaming via Internet connection
Layar
Information on the clubs and places right in the street with an augmented reality technology
App that helps you find the music in Nashville!
Nashville Live Music Guide is an Android app that provides diverse information on Nashville's nightlife. The user has a possibility to locate all clubs nearby, read details about them and learn what shows are scheduled. The Layar, an augmented reality tool, is integrated in the app providing the additional layer of digital information for the real-world objects.
App Features:
– Live Music Shows sorted by date, genre or by location in the town
– Maps for finding live music nearby
– Streaming music while browsing
– Photos of the visited clubs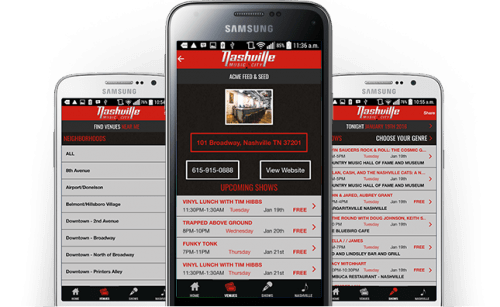 We have implemented
Our team created a location-based, augmented reality layer with Nashville's clubs that displays digital commercial ads on real world objects. We developed this informative app from scratch.
The client gave us design and functional specifications, according to which we developed two versions of the app: iOS and Android one.
After apps were posted on marketplaces, we had been providing full application support for 1.5 years.
Technologies

Android SDK

Android DDMS

adb command

Eclipse

Java

HTML

JSON

Want to experience a successful project?
Get a free consultation and see if our service is right for your business