Skyworks
Follow the celebration of Australia day.
Location of the events
Use an interactive map to see the location of all events.
Radio simulcast
You can listen to mix 94.5 in the app.
App to join the celebration for Australia Day
The Perth Skyworks app is the best way to ensure you get the most out of this family friendly all-day event.
App features:
— Event program information
— Interactive maps
— Best vantage points
— Public transport and parking
— Road closures
— Radio simulcast
Each Australia Day, Perth hosts the biggest celebration in the country
with 2015 marking the 31st year of the City of Perth Australia Day
Skyworks.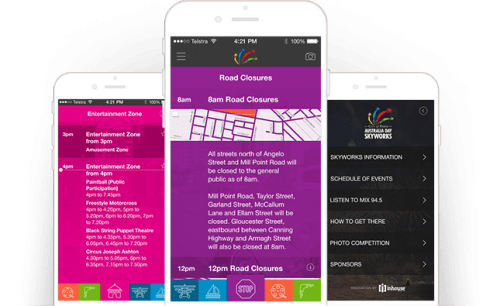 We have implemented
We've received clear requirements from the client in the form of design and other, improved UX, made the app more comfortable and functional, improved usability, helped with the acceptance of the application on the client side, and helped implement it on the AppStore.
Technologies
ASP.NET MVC

Custom Camera overlay

MapView custom overlay

Want to experience a successful project?
Get a free consultation and see if our service is right for your business